Gai Yang Boran

Dismayed by the no-explanation gate down at Chote Chitr, Bangkok's most un-secret hole-in-the-wall (apparently, they do not open until 6pm despite dinner and lunch being touted in most reference sources) and first-day-in-the-tropics heat-shocked, plan B lunch became Gai Yang Boran, a rare air conditioned restaurant in the Saochingcha district. Import Foods' handy map and guide proved very useful (as did James' Blackberry—traveling is so different with online maps and GPS. My smartphone did not work internationally and I shouldn't have even bothered bringing it as it got stolen out of my luggage. Three phoneless weeks later and I'm still quite angry about this and too frugal to buy a replacement).
I didn't realize gai yang and som tum were so popular in Bangkok. The common Northeastern twosome (sticky rice rounding out a perfect trinity) were everywhere on the street, food courts and non-touristy yet comfortable bilingual menu restaurants like this place.
Of course we ordered the grilled chicken. Supposedly, the chickens are farm-raised and the sweet chile sauce is made in-house. Thai chickens are scrawnier and more flavorful than our typical grocery store birds. Notice the plain rice in the background—I didn't think to specify sticky rice when ordering.

A salty, hot, catfish salad with lots of roasted rice powder. I was imagining that fluffy fried style but this was more pulverized.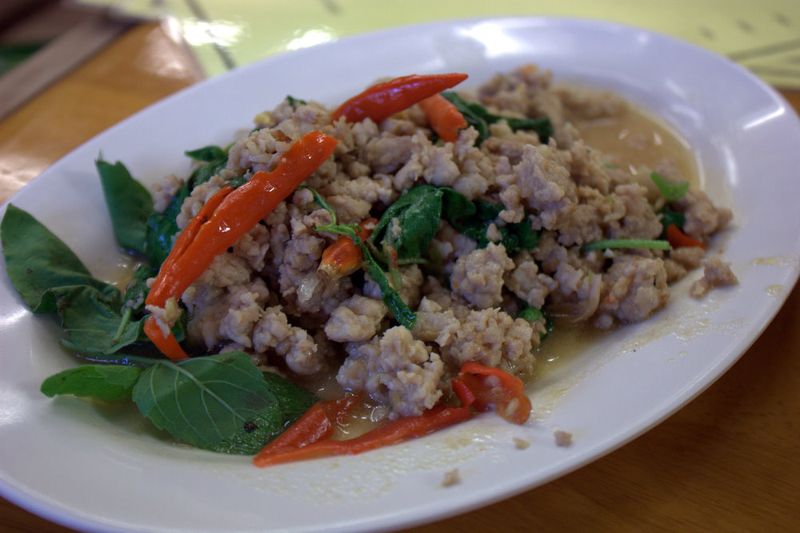 Pork larb was springy, wonderful and punishing.
This was where we were introduced to the concept of "Can you eat spicy food?" This is typically what you'll be asked if the staff speaks a little English (when they didn't, they often held up a chile pepper instead to see if you shake your head yes or no). Not do like it but can you physically handle it as if the ability to eat hot food were an inborn trait. I'm sure there are more sophisticated full sentence ways to explain yes, I can eat it, but I stuck with "chawp pet," which roughly translates to I like spicy. It seemed to work even if I felt like I was using caveman speak.
Gai Yang Boran * 474-476 Thanon Tanao, Bangkok, Thailand