Horsey Sauce and More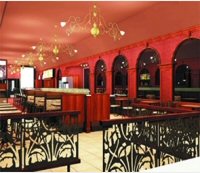 Brooklyn's first Arby's is getting so close that I can almost taste the beef and cheddar. Sure, a "soft opening" is odd for a chain but I'll still try and find a way to get there January 21 even though Thursdays are my busiest day of the week.
Based on the tiny rendering (pictured) on the Brooklyn Eagle's site, this is going to be one classy Arby's.