Mantra

En route to my new favorite discount mall, I got waylaid at what used to be a huge International Food Warehouse/National Wholesale Liquidators combo. Now, the eclectic edibles—Bulgarian cheese, Serbian juice, Italian cookies—are crammed into the corner amidst Windex from Indonesia and bins of irregular Hanes Her Way.
I was saddened by the abbreviated grocery offerings, but cheered a bit when I found a box of spices for something called Kat a Kat. The name had appeal and according to the recipe on the box, the dish contains a symphony of organ meat: kidneys, hearts and brains. Not only did I put the box in my cart, I developed a sudden urge for Indian food. (I do realize now that Kat a Kat is Pakistani).
I did contemplate Bobby's Burger Palace at the Bergen Town Center, but stuck to my guns: South Asian or nothing. It's not like Paramus is Edison, teeming with options, however, it did look like there was an upscale-ish Indian restaurant, Mantra, just across Route 4 in a strip mall with a Macy's Furniture Gallery. I imagined it would be similar to Moksha, and it was, though a bit more loungey–check out the flames popping up in the divider separating the bar, where they serve Desi wings and cheese amigos (inside out jalapeno poppers) from the dining room.
Bhel poori, the spicy-savory puffed rice snack presented while you pore over the menu, tended to confuse the half of the diners who weren't Indian. Do you use your hands or eat it with a spoon like cereal?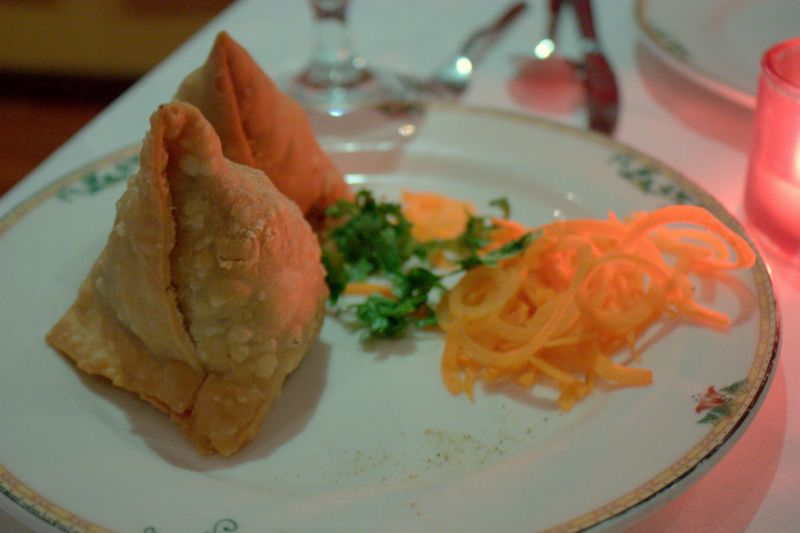 Lamb samosas, nothing fancy. I always feel that the thick shell takes more precedence than the filling. Other appetizers like a balsamic-dressed salad with oranges and pears seemed too pedestrian while the lobster chat, too aspirational.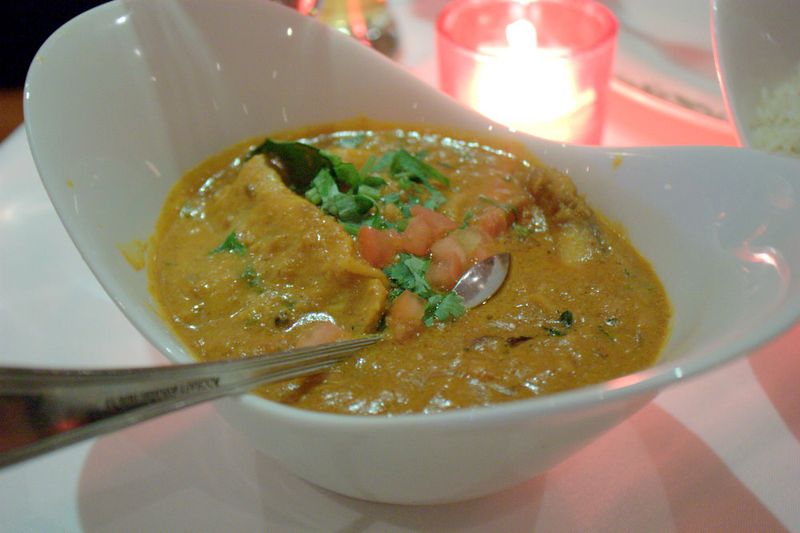 The Mumbai fish curry was the best dish, very fiery and like a more overtly Indian fish head curry. Chile heat, yes, plus more curry leaf and brown mustard seed undertones. Tilapia isn't the most exciting fish, but I don't mind it in strongly favored sauces (in fact, I just used tilapia filets for a heavily spiced tagine).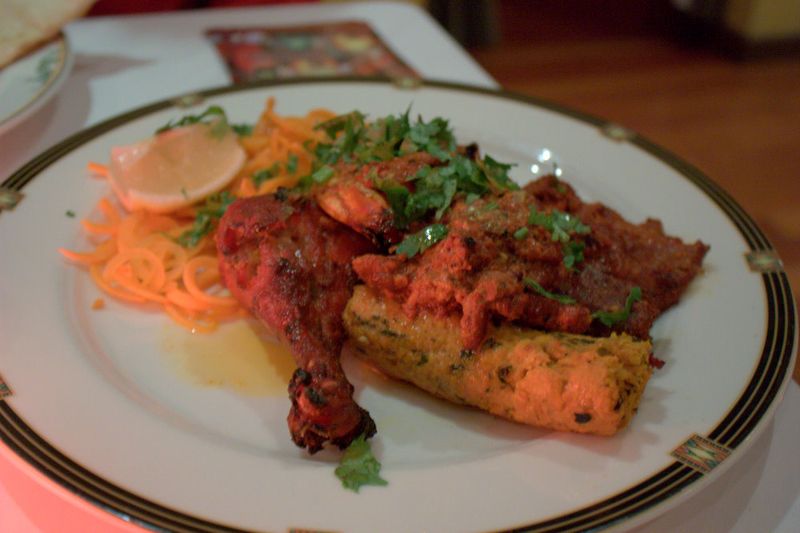 Mixed tandoori grills tend to be…well, mixed; some chunks are more interesting than others. The bone-in meat was moister than the ground and re-formed pieces. This sampler included mal mal kabab (ground chicken), kesari jhinga (prawns), Lahore seekh kabab (lamb), barrah kabab (more lamb). Not all are pictured because I grabbed first, shot later.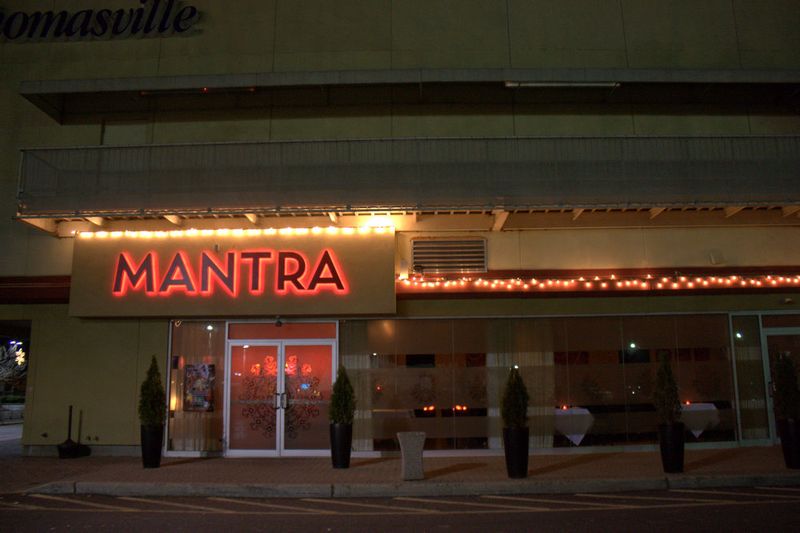 Mantra * 275 E, Rt. 4, Paramus, NJ