The Dinner Party that Wasn't
Despite sharp back and stomach pains kicking in a few hours after eating an enormous wedge of red velvet cake, I don't think sugar overdose was the culprit. I'm not convinced that food even had anything to do with it. All I know was that I was unable to eat and alternated between shivering and sweating for the next four days.
The biggest victim was my already low key dinner party that I had planned a month in advance to test out my mole making skills after returning from Oaxaca and to eat some Thanksgiving food staples that I would've missed out on by not being in the US. So, the dinner party turned into an even lower key Sunday late brunch. I couldn't wait until the following Saturday or all my groceries would've rotted. Never mind the issue of cooking for people when possibly teeming with virulent germs like a modern Typhoid Mary.
The first thing I discovered was that my cooking class recipe was missing vital steps in the directions. At no point does mention adding the thyme, oregano, marjoram or avocado leaves (so I didn't notice until the next day) or what to do with the roasted onion, garlic and tomatillos (which I did catch and rectify). Also, my blender seriously couldn't handle all the grinding and I had to get a second run using an immersion blender. What I really needed was the star of Will It Blend?
But the end result was surprisingly good, extremely thick even after thinning down with quite a bit of chicken broth (I thinned it down even more later) and spicier than expected much more vibrant than dull heavy moles you often get in restaurants. It was served atop turkey to go with my belated Thanksgiving theme (yes, the plates and tablecloth had already moved on) and also because it's a traditional poultry for fiestas. I think my ingredients didn't get as toasted as they did in class because mine came out a more burnished brown than black but not off from a perfectly authentic black mole I had at Las Quince Letras. I doubled the recipe to 12, which is really more like 20. I know I will be happy to find the remainder in my freezer in a few months.
Horchata as a cocktail base seemed fitting and being on my mezcal kick, Death & Company's Smoked Horchata (pictured—I didn't take a photo) fulfilled both needs. That was why Friday night after being home sick all day, I forced myself out of pajamas and into sampling mode. Tasting the original was important. Yet the usual pleasant vegetal undertones of the tequila wasn't sitting right with my stomach and the fat from the pork belly snack we ordered only worsened matters.
When pork and alcohol, my two favorite vices, cause distress I know something is seriously wrong. I had to jump up and leave instead of ordering a second cocktail.  The odd thing about this particular drink, especially since it was listed under a Ladies' Choice heading (or some such), was that it could've been a touch sweeter and I don't normally like sweet drinks.
We added a bit more cinnamon simple syrup when we made our version and used instant horchata because crafting a ricey beverage from scratch was way too much to tackle. The mole was enough. Don't you love the logo from Salvadoran brand Dona Lisa?
Fiery sweet potatoes with coconut milk and Sriracha came from a recent New York Times article. They were ok, I don't find sweet potatoes particularly inspiring ever.
Dead opposite were the David Chang spicy brussels sprouts with mint from Food & Wine. The sweet-salty fish sauce dressing was perfect and the toasted chile-coated Rice Krispies and sesame seeds on top added both snap, crackle pop texture and heat. This is a side to tuck away for future weeknight usage.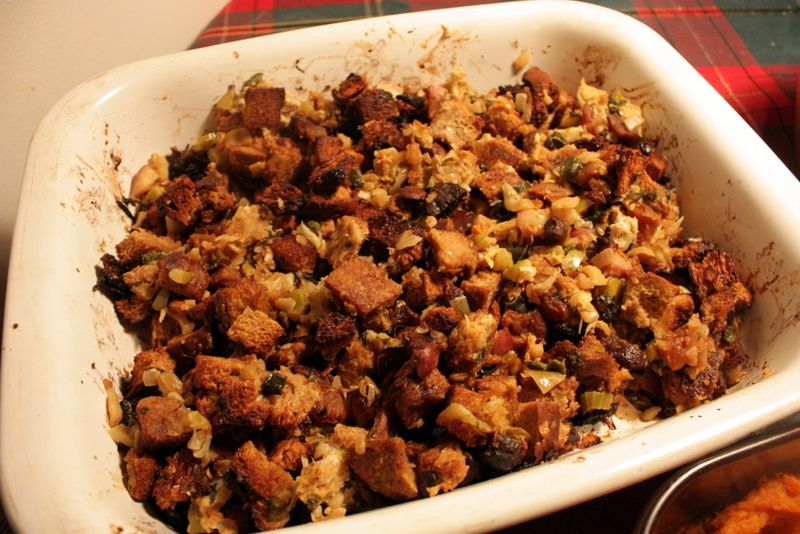 This fruit-studded Oaxacan stuffing was featured in the November Saveur. (I love all the pedantic comments about the ingredients not being Oaxacan. I guess it would be a bit like me making up a stuffing, possibly substituting bagels chunks for bread [has anyone done that?] and calling it Brooklyn stuffing but who really cares if it tastes good).  I chose it not only because it was timely but also because it was meat-free (I try to keep sides with vegetarians in mind).
Interestingly, I ended up cooking the budin de tamala y pan featured in the same article while taking a cooking class with Susana Trilling the day before Thanksgiving. It was so much better than it sounded on paper (or maybe I just don't find bread pudding compelling) perhaps because we made ours with a caramel sauce spiked with passionfruit crema de mezcal instead of rum. This dish convinced me to pick up a bottle of the sweetened spirit (El Rey Zapoteco) which initially I thought would be cloying. If I weren't already dead set on the ode to Gourmet's bourbon pumpkin cheesecake, I would've switched to this dessert.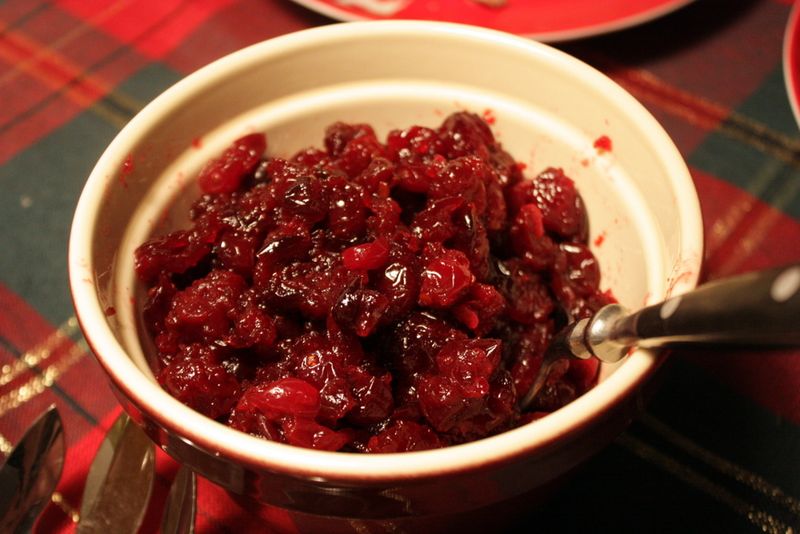 Chipotle cranberry sauce. I just realized this Bon Appetit recipe is from Marlena Spieler, whom I follow on Twitter. So weird, Twitter, I also got a DM from Rick Bayless this evening.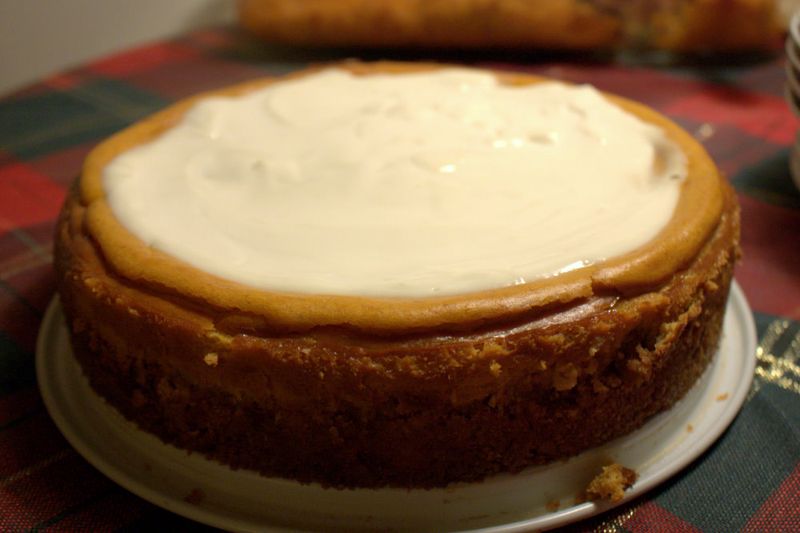 Back to that Gourmet pumpkin cheesecake with bourbon sour cream topping. I've been thinking about this particular recipe ever since the venerable magazine was given a death sentence a few months ago. The criticism that Gourmet was a fount of elitism just didn't ring true with me. (The recipes in Saveur, for example, are more obscure and hold to no 30-minute-and-under meals format yet the magazine is thriving. And the fun Frank Bruni article in the latest Food & Wine where he harasses Le Bernadin's sommelier contains recipes rife with ingredients no average American would have on hand: sea beans, veal demiglace, herbes de Provence, escolar, wagyu beef, to name a few. ) I first baked this particular cheesecake for Thanksgiving in 1990, the year the recipe originally ran.
Despite never being much of a cook and seriously not using an oven for all of 1990, my mom was still a Gourmet subscriber (as well as a reader of Sunset and Victoria—anyone remember that flowery-powdery mag? Ha, it still exists). I can say with 99% certainty that she never made a single thing from it but the fact that it ended up in the living room of our apartment at all says something. My 2009 mom can't stand keeping it real, everyman Tony Bourdain because in her mind he's a snob. I think that special where he went on about his $1,000+ meal at Masa kind of had something to do with it.
1990 was the year that I would've gone off to college, lived in a dorm, played beer pong, gained literary references for future cocktail parties and had all sorts of independent life changing experiences if I were a TV kid (even if I were a TV kid I would not join a sorority). Instead, I went to a teeny tiny art school almost exclusively on student loans (which I might actually still be paying off—it's too painful to calculate) and couldn't afford to move out of the house. It was one step up from community college and wasn't unusual. My best friend that year also lived with his family (including his morbidly obese mom who put him over his knee and maniacally spanked him in front of shocked guests including myself on his 19th birthday) across the Columbia River in Vancouver. 
I brought this pumpkin cheesecake for Thanksgiving dinner with my mom and I think my sister at my then boyfriend's mom's apartment, one of those sprawling '70s complexes with outdoor staircases, The Birnamwood, next to Mt. Hood Community College, the higher education institute that I would rather incur debt to avoid attending (my wizened, bearded and denim-vested hippie English teacher disparaged the place as "high school with ashtrays" but I just discovered that even that has changed).
Despite being easy to cook and kind of foolproof, the cheesecake seemed very classy, maybe because of the bourbon, maybe pecans were expensive. I didn't even bother with the 16 decorative halves on top this year, leaving the creamy porcelain surface naked because I'm frugal by nature and was using a bag of nut bits from Trader Joe's.
I also made this cheesecake when it was republished in Gourmet in 2003 and was then shocked that 13 years had passed. Now it has been 19 and I am training myself to stop being distressed over years disappearing with increasing frequency because it's only going to get worse. Not having children, rapidly growing human timepieces, does tend to mute the passing of time. (If I had a child in 1990 when I was a young but legal adult that child would now be a young but legal adult and could be baking me a pumpkin cheesecake.) The only upside to Gourmet ceasing publication is that I won't have any future recipe reprints reminding me how swiftly the world moves forward.