La Farola

Drinking culture, my favorite kind of culture next to eating, stymied me in Oaxaca. I never did figure out if there was a place where a single female could have a drink without inviting unwelcome attention. I'm not even prime pestering material and still got invited to drink cervezas by a random man who started chatting me up while walking down the street in broad daylight.
I did have a few shots of mezcal at a random top-floor bar in the same building as Los Danzantes but the crowd was very young. The friendly guy working at Mezcalería Los Amantes gave me a flyer for a Nortec Panoptica Orchestra show later that night at Café Central (owned by artist Guillermo Olguín, also the proprietor of the above tasting room who is opening a mezcal bar on the Lower East Side in the near future) but after heading back to my hotel I became a fuddy-duddy and didn't feel like going back out after midnight.
Unfortunately, it wasn't until the end of my week that I started interacting people. I vowed to meet up with three women from my cooking class (one whom I was drawn to because of her white hair. I mean, she was in her fifties but even so you just don't see anyone attractive with the nerve to go natural in NYC, and yes, she turned out to be a New Yorker. Her sister, traveling with her, also had non-dyed gray hair) with Susana Trilling, originally that evening. But after ten hours (we were picked up at 9am and didn't get back to Oaxaca until after 7pm) of market shopping, cooking, snacks, lunch, mezcal, beer and a multi-course dinner, everyone was sated into a stupor.
The next night was my last, Thanksgiving, and it was my last chance for cantina fun at La Farola, a touristy but charming bar from 1916. I was sipping not slamming but hours flew and at some point I broke a glass, the universal signal that it's time to stop drinking. And nice, non-rot gut mezcal or not, I still felt all the painful effects the next morning while getting ready for my flight back to NYC.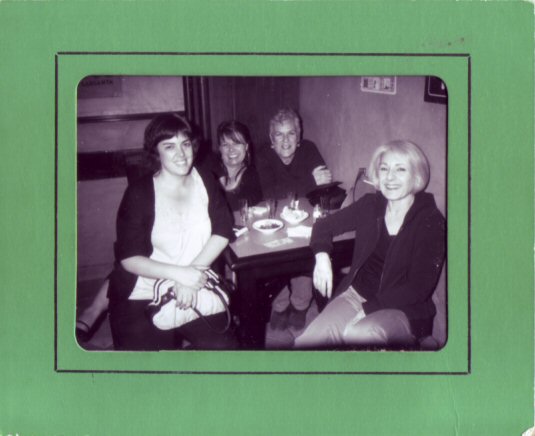 We gave small children a few pesos when asked but for the most part fended off the deluge of rose vendors and candy sellers. After a week my no gracias guilt had fully abated. It wasn't until the guy with a Polaroid camera came by that we caved. Photos are always entertaining and instamatics are a dying breed in this digital world. We did color, black and white, numerous shots. They came in little colorful cardboard frames.
Certainly the mezcal contributed but it was some of the most fun I had all vacation. (This was enhanced by calls of "Krista! Krista!" when I went upstairs to use the bathroom. I genuinely thought I was hallucinating but it turned out to be this couple from our class that I had pegged as wholesome and naïve [others interpreted this as gay and in denial]. They were accompanied by a Mexican con artist who'd been following them around all day scamming free drinks. It turns out that the day before this very same guy had been trying to glom onto the woman from L.A. that was sitting with us downstairs. She had no problem getting rid of him, however.)
Fun with strangers? Anti-social me? What did I have in common with these women? It eventually became obvious: we were all unapologetically unmarried and childless. It was heartening to be around like-minded females in their 40s and 50s, a spiritual nightcap and satisfying end to my vacation.
Oh my god, botanas at last! Tasajo, cecina, chicharon, cheese, chorizo, pickled carrots and jalapeños (with tortillas and salsa, of course). Technically my final meal in Oaxaca (I did pick up a sweet roll and mini banana from my hotel's breakfast buffet the next morning).
La Farola * 3 20 de Noviembre, Oaxaca, Mexico