Mercat Negre

3/4 I've only been to Mercat on Bond Street once when they were having one of their visiting Catalonian chefs cooking a special menu. I liked the few things I ate well enough. How would the restaurant translate to Williamsburg?
It hasn't exactly. The menu is much smaller, no cured meats or cheeses at all, though the room is airy, high ceilings, lots of wood and white brick. The service was typically Williamsburg—amiable, though harried and forgetful no matter how empty or busy—which I always mentally prep myself for and am rarely proven wrong.
Sure, it's new and quickly became bustling. When I first entered there was only one other couple in the then cavernous, nearly Medieval looking room, The Boy With the Arab Strap played in entirety. Soon enough, though, the bar stools filled, the din rose and two large parties had descended, one in the private second floor space and another group of fifteen inches from us at a long row of cobbled together two-tops.
The food is hit and miss. Stick with the fried snackier items and you'll be fine. The croquetas, here spinach, pinenut and raisin in oblongs and shrimp in balls, were the highlight. Nearly greaseless, their crusts were perfectly golden with a arm oozy interior. I even liked the croquetas at chain restaurants in Spain, though, so maybe I'm easily impressed.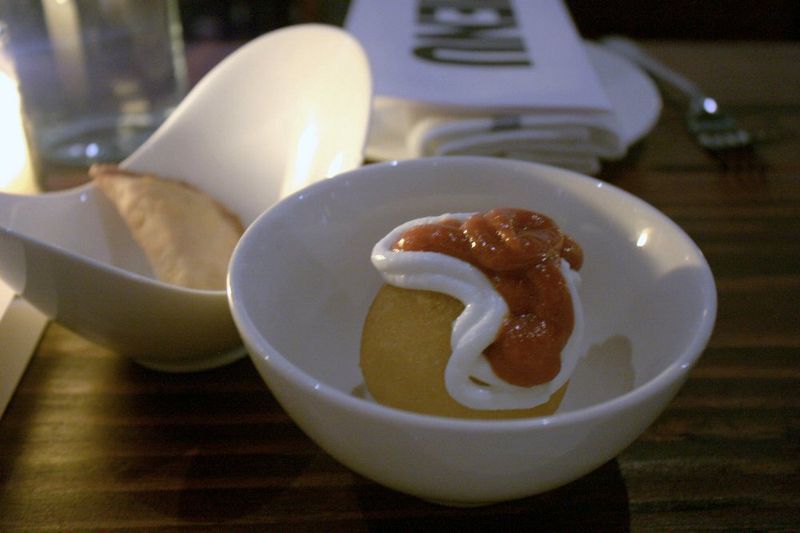 The bomba wasn't what I expected at all. Described as a chicken and pork meatball, I still wasn't picturing one large ground meat orb coated in mashed potato and fried. Minus the aioli, there was something almost British about this. All it needed was a scattering of green peas. That's a sobrassada and cheese empanada hiding in the background. I will say that the prices are fair. Empanadas, though tiny, were only $1 a pop, croquetas $2 each, same with the bomba.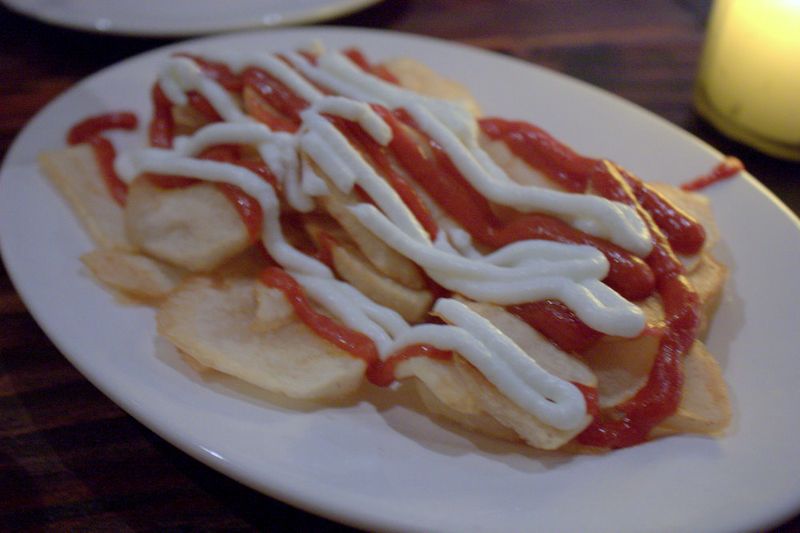 The patatas bravas were done in a thick handcut potato chip style rather than in more traditional cubes. I did see huevos rotos served like this in Madrid earlier this year so it's not a completely un-Spanish thing to do. I like tasting more of the potato's softness, but these were still enjoyable.
Cocas are thin, cracker-like flatbrads treated like pizzas. This one was minuscule—it's not even visible in the photo—and overwhelmed by the topping of vinegary sardines and escalivada, a.k.a. red peppers and onions grilled to sweet softness and dressed with olive oil.
There are two rice dishes: one seafood, one meat, available in two sizes. This is the smaller one, which contained rabbit and pork. The grains weren't fully cooked, some mostly scattered on the surface were completely white and still opaque, and the meat was a little greasy yet not in a way that moistened the rice. This was the dud of the batch.
Taste is subjective, though. James ordered a Ward Eight, which I've never had before so it's hard to compare. After a sip I did comment that it wasn't very sweet, meant in a positive way. I'm not crazy about sugary beverages, alcoholic or not. The woman sitting next to us later ordered this same drink and a few minutes afterward asked the server for more simple syrup, which they brought to the table no problem. It's never even occurred to me that you could or would doctor a cocktail. Then again, other than fries, I never salt or pepper my food at restaurants either. And I didn't say anything about the crunchy rice.
Now that I look deeper, though, a Ward Eight doesn't typically contain sugar, just a touch of grenadine, and Mercat Negre's version goes primal with straight pomegranate juice. My conclusion: the cocktail isn't meant to be particularly sweet. The customer's always right?
While assessing our meal–James thought this was a one-shovel restaurant while I thought it was more two-shovel with kinks to work out–he commented, "I liked that tapas place by the BQE better."
What tapas place by the BQE? Zipe Zape? That was just a few blocks from this place and it's gone. "Do you mean Allioli?! Grandpa, you do realize how long ago that was?"
I had a vague idea just how long ago that truly was because I remembered debating whether or not I should watch the Daniel Pearl decapitation video a few days before this dinner (nay won over yay) then got squeamish about eating a baby octopus' head at Allioli when normally I'm not troubled by such things.
And that is one beauty of blogging about food before food blogging was such a thing, I have a record of practically everywhere I've dined since the dawn of the millennium (as well as non-dining at Zipe Zape in its previous incarnation, Kokie's). I can also concede that caving and buying a smartphone does have benefits, primarily being able to look up crap from the past on the spot. What was at 291 Grand Street now, anyway?
We strolled down Grand on our way to the G train, and it turns out that the space is now that Caracas Arepa Bar offshoot. Yet another indie chain.
Mercat Negre * 65 Grand St., Brooklyn, NY