Geno's & Dalessandro's

1/2 Some Americana I love (cheeseburgers), some I could live without (hot dogs). Cheesesteaks are definitely in the love category. Lots of goo and grease, less tame than a burger. Even though I haven't detailed it extensively, I've tried quite a few Philadelphia specimens over the years. Of course, Geno's and Pat's numerous times, Tony Luke's, Chubby's (second choice after a no go at classily named Chink's) and now, Dalessandro's.
On my most recent visit, I did a taste comparison between South Philly drunk-magnet impossible-to-miss Geno's and the cramped Roxborough no frills lunch counter, Dalessandro's (which is across the street from Chubby's). (We also picked up a cheesesteak at Pat's, but James ate it before I could get a photo or even a bite.) At the latter, it felt like everyone was known by the staff, but that might've just been because they ask for your name when you place an order. There is a few minute's wait because everything is cooked on demand.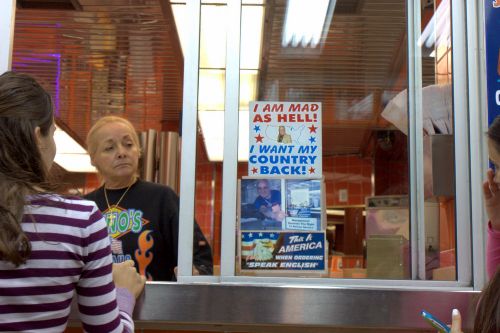 Geno's is more of an assembly line with their gruff schtick and pre-made subs that are instantly slid across the counter toward you. Geno's doesn't sell alcohol while Dalessandro's has refrigerated bottles of beer—I spied Yuengling and Labatt. Beer makes sense with cheesesteaks.
Dalessandro's just feels better (unfortunately, I didn't take any photos inside or outside) which is why my conclusion pains me. I actually prefer the "touristy" sandwiches like Geno's above (cherry peppers not my doing). It's the style more than quality. Both are good in their own ways, but they are different breeds. I will give them both two-and-a-half shovels because three just seems weird for either (though looking from my 2001-02 perspective I deemed Pat's worth of three shovels—it was a younger, gentler time).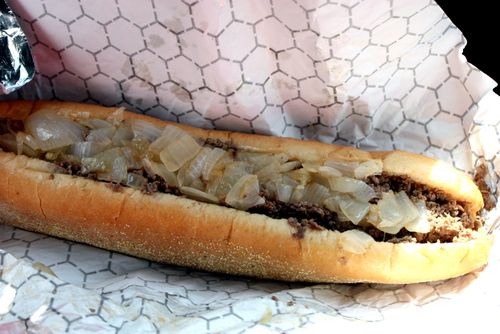 Dalessandro's chops the meat fine where Geno's uses Steak-umm-like thin strips. I prefer the solid pieces of beef to the crumbles. Of course, you can ask for Cheez Whiz, American or provolone pretty much everywhere but Geno's screams whiz, just look at that orange façade. I didn't specify what cheese I wanted at D'Alessandro's and was given provolone by default. Sure, provolone is classier but it melts away to nothing and is subtle amongst so much beef . Provolone is perfect on a roast pork sandwich (which I'll get to later) but for me a cheesesteak needs the sharp, unmistakable tang of viscous processed cheese.
Dalessandro's is definitely a better value, the sandwich is nearly twice as big, a giant hoagie completely stuffed to the bun's limits and costs $5.94. Geno's is petite on a cut roll and a little skimpy for $6.75. My ideal would be a massive sandwich with steak slices and plenty of whiz. Onions too. And while you can find a bottle of now all-American sriracha (my cheesesteak condiment of choice at home) at Dalessandro's, it's worth trying a few small spoonfuls of the chunky hot chile sauce at Geno's. It burns like crazy, so much so your mouth numbs and everything starts tasting like dirt. I never said it was a positive experience.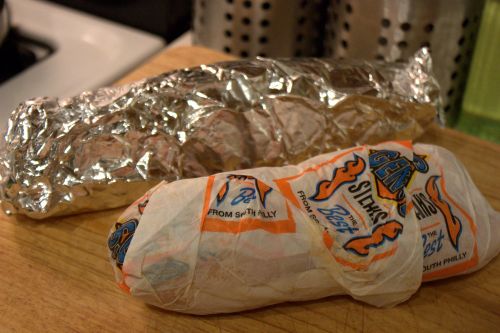 How they are wrapped to go. Paper-lined foil and logo-covered paper. The foil keeps the heat in better for immediate eating.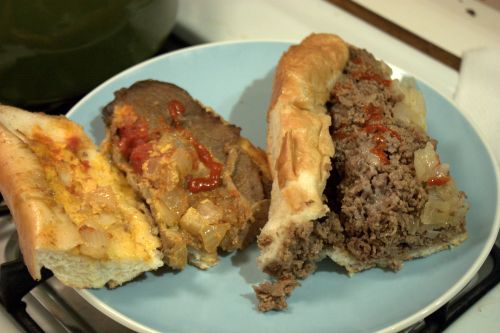 Pardon the unappetizing display of these halves. I'm a leftover freak. What I learned the hard way was that the foil isn't a good idea if you're saving the sandwich for the next day. Dalessandro's uses a softer bread and the sandwich had steamed, sogged and adhered to the wrapper. After re-warming both, I had to rip off the formerly crusty exterior of the roll to get the paper off. Eat Dalessandro's sub immediately. Geno's, maybe due to all the processed ingredients, held up just fine.
Geno's * 1219 S. 9th St., Philadelphia, PA
Dalessandro's * 600 Wendover St., Philadelphia, PA