The Old Bay Restaurant

1/2 Despite lacking any serious intentions of moving, I do everything I can to not be in New York on weekends. I should consider myself lucky to live in a spacious apartment in a coveted Brooklyn neighborhood, and I do, but that doesn't mean I get satisfaction roaming around my own environs. My surroundings are about the new, the in, the crowded, what's been written about. Being in the thick of things can be fun but frequently I want the opposite.
Others have second homes to remedy this urge. Though I scoff a the luxurious concept, I have known absolutely non-wealthy people (social workers, office assistants) who share cramped NYC apartments to afford a weekend home to flee to by train 6pm on Friday.
I'd rather approximate a comfortable nest here and escape to the suburbs every couple Saturdays, if only to sit in a car with only one other person, shop at well-stocked box stores with helpful staff and eat bad-for-you chain food. It's not only grounding, it restores my sanity and enables me to face those three painful subways Monday morning.
(I really enjoy complaining about the absurdity of living three miles from my office, a straight shot across the East River [don't go stalking me, now] yet having to take three subways five stops, or two subways four stops plus a 12-minute-walk to get there. And maybe if I get it out of my system here I won't have to go into therapy to control my anger. I've actually figured out a tolerable morning solution [it doesn't work going home because the M and R don't share a station in Manhattan]. If I buy an unlimited card I can take the F two stops to Jay St. get out of the station and walk one block to Lawrence St. to catch either the R to Whitehall St. or M to Broad St. on the same platform. If it's after about 9:40am, the M has stopped running for the rush hour and it's R only, but this route can shrimk a typical 40 minute commute into 25 minutes.)
I've tried branching out but Westchester and Long Island do not provide the nearby solace I seek. Only New Jersey will do. I don't know that I would live there, not because of its stigma—that means nothing to me because I grew on the west coast, likewise, I can't understand New Yorkers who get off on Portland—but it certainly wouldn't add any sanity to my commute and no one would ever come visit.
There was no question that if one were to see Star Trek on opening weekend it would have to be in New Jersey. I'm not a trekkie by a long shot, but it's something to do on a Saturday. I was hoping for an empty house at 11:30pm in New Brunswick and nearly got it. I don't think there were more than ten people in the entire huge theater. And I was pleased to see human versions of the Comic Book Guy, four men had shorts, ponytails and large guts.
But first, we had to eat. New Brunswick is a happening scene (and apparently, rocking). The miniaturized downtown strip has that trying be glossy, martinis, steakhouses and dressy Italian food style (I'm also picturing grand pianos but that's probably wishful thinking), that ends up looking '90s. It's how I imagine Houston or Atlanta looking. I've never been to either city but that was exactly my impression of the area around Beale Street in Memphis. I had been expecting more grit and less casual upscaleness. Of course, this is only like a two-block stretch of New Brunswick.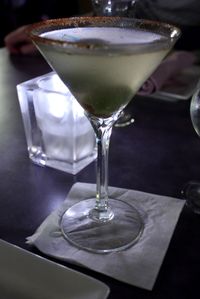 The Old Bay Restaurant appears to have a lively bar scene, a scary scene, frankly but what would you expect from an establishment with the slogan, "Every day is Mardi Gras?" I didn't think the Cajun-ish food would be very promising and it wasn't really. But sometimes it's more about the experience than the food. It's not as if there is great New Orleans cuisine in Brooklyn either.
The Cajun martini was actually kind of foul, not so much because of the spice but it tasted too much like food. Pepper vodka, green Tabasco and olive juice with a chile rim.I don't mind blue cheese-stuffed olives in a martini, though, and that's definitely food.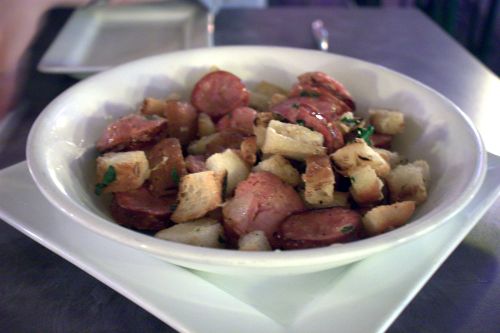 They were big into "sharing plates" i.e. appetizers. They had run out of the crab and spinach dip, which implies my taste in appetizers is on the mark and very mainstream. Instead, we had the andouille and croutons. Is that even a real dish? It was fine in a junk foody way but seemed improper somehow.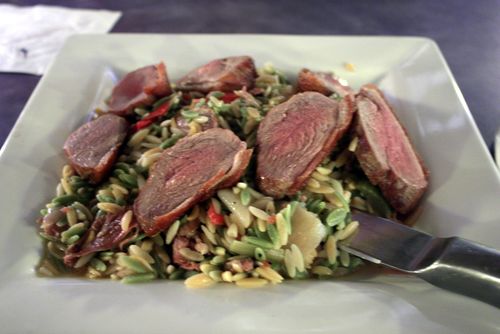 I'm not even crazy about jambalaya, gumbo and etoufee and only trust them in their natural habitat. Maybe it's terroir but they never seem to work outside of the Gulf Coast. So, I didn't see the harm in eschewing tradition for orzo (tricolored, no less) with sliced duck breast. It was ok for what it was, not terribly exciting, at least the duck wasn't overcooked and managed to retain crispy skin.
With a bit under half an hour to kill, we grabbed a pint at Tumulty's, a Germanic place decorated with dark wood beams and toy trains that I mistook for an Irish pub. Maybe it is an Irish pub, though there's Cajun shrimp on the menu, I can't figure it out. Everyone at the bar was eating some very good looking burgers. That's what we should've had for dinner.
The Old Bay Restaurant * 61-63 Church St., New Brunswick, NJ