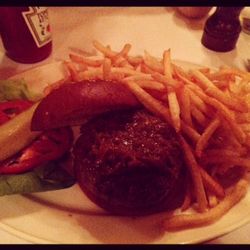 Minetta Tavern Not-that-embarrassing-confession: I've never had the Black Label Burger
(though, I recently encountered a Thai burger bearing the same name) and when
you admit this, people always want to know what you thought of it. Ok, yes,  it was very much not a regular burger. It was
a rich, messy and amazing burger that actually gave me a stomach ache even from
eating half. (And now I wonder if it's just because I'm getting old and can't
handle fatty foods because the same thing happened with pork ribs a week later.
I fear turning into my boyfriend's mom who says things like "I like
butter, but butter doesn't' like me," which sounds quainter on paper than coming out of her mouth.) I'm not a
tasting notes type, but I can still recall the flavor even if I'm having trouble articulating it (I hate it when people online describe food as "flavorful"). The meat had that fleshy, aged steak flavor I think is more musky than minerally that
you get in particular when you gnaw on a porterhouse bone to eke out all the scraps and
congealed fat. There was also a lamb special involved and it seemed unnecessary
for the server to explain what merguez is, but then the crowd was weird. It was
also the first time I'd ever seen middle-American grownups taking
photos of their food with SLRs. Also, bros who didn't know what animal bone
marrow came from and were dismayed at the cost of hair and makeup for
bridesmaids.
Nitehawk Cinema Ok, these weren't bad for movie theater
nachos (though chips, along with traditional popcorn, aren't exactly the ideal
food for an environment requiring quiet). And it wasn't ordinary queso. In
fact, the super-cinnamony chorizo and lime-heavy guacamole almost distracted
from the aggressively salty quality I look for in dishes revolving around melted
processed cheese.
Ditch Plains There was a lot of lobster in this roll, enough
to make for a surprisingly filling sandwich, though I still find the $28 price
tag tough to justify.
Extra Fancy The $12 shrimp sandwich in a split, buttered
roll and demure serving fries tucked into a paper fast food bag was certainly
cheaper than the lobster roll, but more of a snack than a meal.  It's a shame that they switched chefs so
quickly since a city can only handle so many New England and Maryland
approximations–even when well-priced and easy to score a seat on a Saturday
night.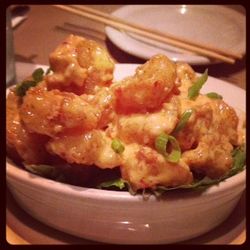 Bonefish Grill Free birthday Bang Bang Shrimp in New Jersey
on the same night that the chain's first NYC branch opened in Staten Island. I considered
the opening, but the charity component seemed too serious and I wouldn't be
able to use my coupon, which was the whole point. I'm pretty sure 90% of tables
have these crispy shrimp bathed in what I'm guessing is a sauce made of
mayonnaise and Sriracha. Apparently, Bonefish now serves a lobster roll, but I'd just eaten one the night before so it didn't seem right. For the record, it's only $13.90.