The Redhead

1/2 Starting Friday night I semi-give up on all the ridiculous food stringency, i.e. no sugar or starch, I set up for myself during the week, kind of like binge drinking but with edibles. Sure, it's unbalanced but it works for me. Oatmeal breakfast and Little Lads vegan mush lunch allowed for fried chicken dinner.
I'd been curious about The Redhead but it struck me as one of those places that might have interesting food but also might annoy me with a cramped space and long wait times. A weeknight venture, essentially. But I went wild and made an attempt directly after work on a Friday and the timing was just right. Seating was no problem at 6:30pm but by 7pm the bar area was one solid, immobile hungry pack.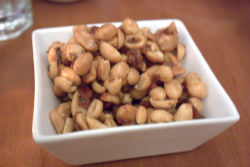 I started with a generously sized snack of the bacon peanut brittle. It wasn't what I expected at all. Which isn't to say that it wasn't tasty. I was imagining shards of hard candy studded with nuts and bacon. But this was almost a dead ringer for one of my favorite Chinatown grocery store treats of peanuts tossed with thumbnail-length dried anchovies, a salty-sweet flavor combination that I don't associate with the restaurant's fancified Southern cooking at all. This seriously tasted Asian to me (ikan bilis in Malay). I brought home the remainders in a foil packet only to later catch our toothless cat getting into the peanuts and licking them.
I seriously though James was bullshitting me when he said he couldn't have any because of Lent, but he did refrain from the pork-laced legumes. I'll never understand religion. I've never known him to attend church, though two years ago around this time of year I came home to find him sitting on the couch, Ash Wednesday smudge on forehead. Baffling. Certainly, I grew up with Catholics but I'd never ever seen the charcoal on the face thing until I moved to NYC. I honestly had no idea what was going on the first time I encountered the practice, though I never articulated my confusion until six years ago.
So, he opted for a cod dish enhanced by fennel, shoestring potatoes and a sauce described as clam chowder. I did not take a photo because the setting was cramped, dim and awkward (though not wholly uncomfortable) as it was.
Me, I got the fried chicken. I generally find large amounts of white meat heavy and overwhelming. I just prefer a closer ratio of skin to flesh. Thankfully, the breast here wasn't dried out in the least and the crust was very light and flaky. Both the spinach salad with apples and candied walnuts and very moist triangular wedge of cornbread satisfied love of sweetness in savory dishes. I wouldn't have minded a biscuit in lieu of the cornbread, though.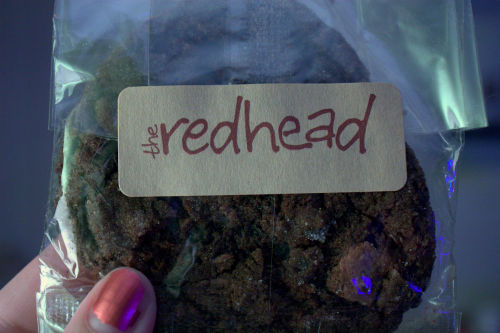 Despite foregoing dessert we were still given a parting goodie. An intense chocolate cookie with chocolate chunks and big pockets of crystallized ginger.
The Redhead * 349 13th St., New York, NY