Lam Zhou

Hand-pulled noodles for less than five bucks are a wonderful filling thing. It's too bad that I'm rarely in Chinatown because this would be an ideal lunch.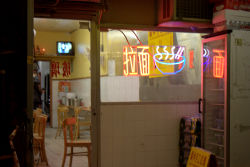 I recently had the opportunity to stop by Lam Zhou (previously I had only tried Sheng Wang, which I never posted here but reviewed for nymag.com) on the way to a party in one of those co-ops along the East River that look like projects. A million blocks from any subway station, I needed fortifying on the long trudge from the East Broadway F station to the F.D.R. Even though I'm not fanatical about Flight of the Conchords, I did recognize the building they use as a stand-in for the New Zealand consulate as we walked past.
Lam Zhou is typically no frills, fluorescently lit with diners ordering, slurping and out the door in minutes. No time need be wasted on deciding what to order since they really only do two things: noodle soup or dumplings. Soup requires choosing your meat from options like beef, pig's feet or fish balls and the dumplings are both sweet and savory, boiled or fried.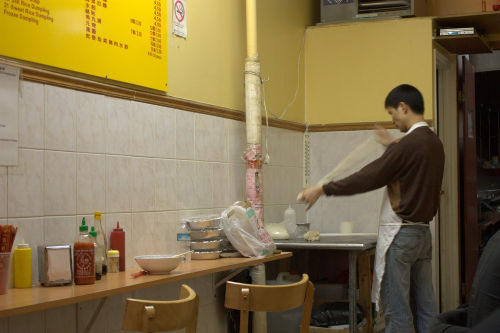 Immediately after placing your order (it seems that if you're non-Asian a server will come take your order where you sit but Chinese speakers tend to just walk into the middle of the small room and shout out their wishes to the kitchen in back) a dull thwacking sound fills the air. Dough is pounded out at a stainless steel table in a corner and long, thin noodles are coaxed from the floury mass within seconds. That's a lot of on demand craft for $4.50. Hey, there's an untapped artisanal product ripe for hipster plucking.
To me beef tripe is honeycomb tripe, the thick, lacy webbed part of the stomach you normally see cut into curled strips as in the center of this photo. But this bowl contained a bonanza of bit parts: cuts that looked like shiitake mushrooms, clear gelatinous tendons and darker beef slices with transparent striations.
The noodles are amazingly chewy and springy and there are a ton of them. So much that the chopsticks can barely pick up strands without succumbing to the weight. Too many bowls of noodle soup and you might develop carpal tunnel syndrome. Our waitress seemed disappointed that we didn't also want dumplings but I knew the soup would be substantial. An ideal cushion for drinking.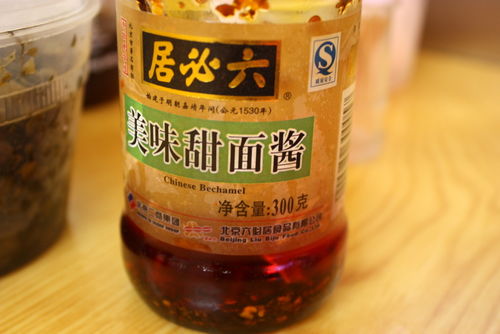 I like adding in a heaping spoonful of pickled mustard greens and a tinier amount of chile oil. I don't think anyone would mistake what's labeled here as Chinese Bechamel for the classic white sauce.
Being a party with a large contingent of Johns Hopkins alumni, professionals from the medical field weren't scarce. I was particularly amused to meet a psychologist who specializes in workplace matters. She thought the peanut butter and jelly hoarder I was recently fascinated by wasn't a problem worth making an issue out of as long as the worker was doing his job well. We'll see about that.
 
Lam Zhou * 144 East Broadway, New York, NY