Stung by Jollibee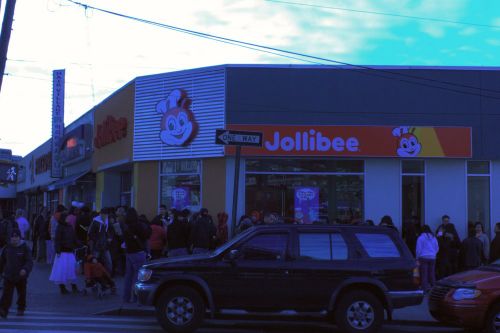 I honestly didn't have high hopes for a Valentine's Day treat involving Chickenjoy or spaghetti studded with frankfurters at Jollibee on opening day. In the Philippines the homegrown chain is way bigger than McDonald's. There's serious nostalgia at work (though not for me, obviously). I could see from blogs that the East Coast's first branch in Woodside, Queens was tempting visitors from as far as Toronto. James' Pinoy coworker was packing up his family and heading in from New Jersey's outer reaches.
I wanted a piece of the action, but went in cautiously expecting a crowd. Sure enough, around 4pm there was a line composed of anxious customers wrapped around the block. We estimated at least a four hour wait. Ack. (Sorry about the oddly colored photos–I'm still getting used to my Christmas gift camera and forgot to change a setting because I rarely take outdoor pics.)
I could stand to wait a few weeks for the hype to die down. Remember how quickly Pollo Campero mania faded? After the initial ruckus, the Guatemalan fried chicken chain couldn't even sustain enough business in Sunset Park to stay open (there's still one in Corona, though).
So, we had an impromptu late lunch at Sripraphai instead. No waiting and no photos necessary since I order nearly the same thing every time (crispy watercress salad, crispy pork with chile and basil, drunken noodles and a curry—this time a super bony, more fiery than usual catfish version with apple eggplants).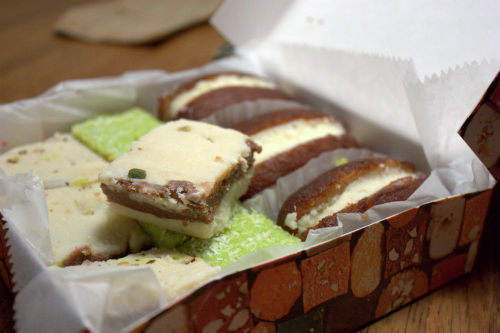 Since no one gave me holiday candies I gifted myself with assorted mithai from Delhi Palace. These colorful sugar bombs will kill you, total diabetes in a box (seriously, everyone thinks that blacks and latinos are the kings of insulin resistance, but Indians have the highest rate of Type 2 diabetes in the city, which I only remember because the New York Times' article on the topic last year, "Bedeviled by the Sugar Sickness" was illustrated with a photo of Delhi Palace)  but I love the creamy sweet assault on rare occasions.
I almost would've forgotten it was Valentine's Day if I hadn't been handed plastic wrapped flowers by a waitress at Sripraphai  just before she ran out. By the time we were done eating, the usual Saturday night hordes had amassed in the lobby and outside…and yep, there was still a massive queue at Jollibee. I'll be back.