Jean Georges

1/2 There's absolutely no rhyme or reason to Valentine's Day restaurant choices in my household. Last year I was surprised with bizarre, unromantic, now-shuttered Crave while this year during widespread economic gloom and doom, I was treated to Jean Georges. No complaints, here. And knowing my aversion to gimmickry, reservations were made mid-week rather than the 14th proper.
We went all out (though not so with wine, an apply-pear-ish 2001 German Riesling that I did not pick out but enjoyed) and ordered the seven-course signature tasting menu. I've never eaten at Jean Georges before so sampling classics seemed like the way to go. Honestly, I would've been fine with the $98 three-course prix fixe (I was curious about the Jordan almond-crusted duck breast despite reading about the dish being too sweet in more than one source. I love candied savories, though.) but James seemed hell bent on the egg caviar, which came with a $25 supplement charge with the lower-priced option. In his mind, this was thriftier because you were getting more food and not paying for extras.
A shrimp egg roll and tiny Boston lettuce leaf, chicken broth spiked with meyer lemon and salmon with what I swear was said to be kumquat though I don't recall tasting it and see no evidence of said fruit in this photo. This trio summed up what was to come: flavors that were sharp while remaining refined overall, heavy on the salt and acid with the occasional tiny nod to Asia.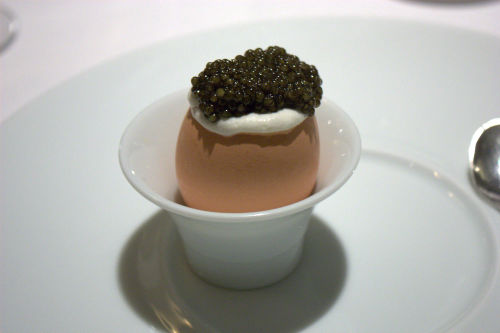 Ah, the eggs topped with eggs. The insides are an insanely creamy blend of egg, vodka and crème fraiche while the saline caviar adds a nice popping texture to the smooth interior layer. I never would've ordered this a la carte but I now understand why it is a classic. Total food porn.
Sea Scallops with Caramelized Cauliflower and Caper-Raisin Emulsion was actually the first course I would've ordered off the prix fixe because I was picturing something delicate and sweet. Oddly, this wasn't dried grape sugary in the least but tart with a sauce that tasted of curry and mustard (but very well may have contained neither).
Young Garlic Soup with Thyme and Sauteed Frog's Legs. I didn't feel the urge to dip the crispy appendages into the vivid, strongly seasoned broth (that salt and acid I was talking about) with my hands as suggested but did appreciate the warm water finger bowls strewn with rose petals that followed.
Turbot with Chateau Chalon Sauce is another type of dish that would never occur to me to order. Just too simple. But of course that's not true at all. The fish was poached to just-right firmness, the wine-based sauce was rich and buttery yet completely light and the miniature cubes of zucchini and tomato added fresh interest (despite not being quintessential February produce).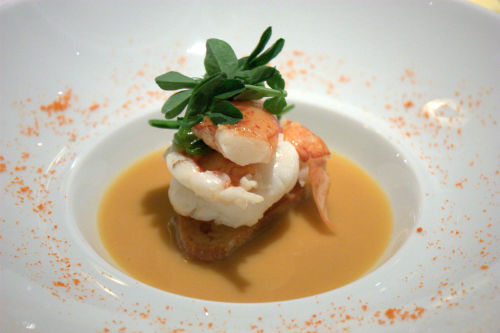 Lobster Tartine with Lemongrass and Fenugreek Broth and Pea Shoots might have been my favorite. Of course I was amused by the presence of fenugreek, now the official culprit of the NYC-area maple syrup smell. Here the subtle natural sweetness paired well with an equally restrained lemongrass flavor and enhanced the pure meaty hunk of lobster and claw. The orange sprinkles around the plate tasted like dried, pulverized shrimp though I imagine it was lobster-derived.
Our server sauced most of these dishes tableside, spooning mine from a silver vessel first. I did notice (as did James) that I tended to get more, which resulted in less for him. I received about 75% of this wonderful sauce and made sure not to waste any by using crusty rolls as edible sponge. James had white plate peeking through the bottom of his peach-colored pool.
Broiled Squab, Onion Compote, Corn Pancake with Foie Gras was the final savory course. Normally, at this point I might be feeling a bit overstuffed but the portions were sensible (the lunch at Robuchon a Galera nearly killed me and there were fewer courses) and I was still excited about what was yet to come. This was the richest dish of all, dark meat spruced up with five-spice, sliver of preserved Meyer lemon and a warm nugget of foie gras. What's a tasting menu minus foie gras?
I didn't realize there were two schools of thought on a squab's degree of doneness until watching this week's DVRd Top Chef (obviously, I couldn't simultaneously watch while enjoying this meal). I would say that this version leaned more towards done than rare. Not that it was overcooked, no nitpicking from me if I were a TV cooking competition judge, I just don't recall seeing much pinkness. It was also impossible to extract all of the meat from bones with a knife and fork. More finger food.
Desserts could be chosen from four themes: winter, apple, caramel or chocolate. Just the night before I proclaimed my love of all things caramelly over chocolate (just like with shoes, purses and babies, I don't understand where chocolate's stereotype as a lady obsession comes from) because I enjoy making pointless declarations aloud.
Obviously, I chose caramel. From the top left: Chocolate Pop, Coffee-Cardamom Ice Cream; Vanilla Soda, Liquid Caramel Sphere; Warm Caramel Tart, Crispy Olive-Hazelnut Praline, Caramelized Bacon; Caramel Curd, Dehydrated Sponge, Roasted Pineapple Sorbet. The gooey blob in the front was my favorite. Yes, you can still win me over with bacon, and the also savory olive component added extra intrigue.
This is a poorly photographed example of the winter dessert plate. All I remember is that there was a concord grape snow cone, a beignet and something meringue-marshmallowy and that this plate of treats looked more soft and comforting than mine.
I was just talking (ok, Twittering) with a friend who was impressed by someone she knew who'd recently received a dessert and candy course (at The London, it turned out). I, too, was wowed by such sweet overload at Robuchon a Galera, my first and recent encounter with this practice. You're not going to find such overkill if you only ever go out for pizza and veggie burritos, I'm afraid.
I suppose technically these are mignardises not simply candies, but I'm American not French. The mini macarons didn't taste terribly distinctive from each other. I think they might've been chocolate, strawberry and coffee. The gelees and chocolates were nice but the marshmallows—cranberry, vanilla and banana—were most impressive being cut with scissors from a coil tucked in a big glass jar wheeled out on a trolley.
There's a place in hell for people who don't eat their sweets. Is it just more refined to leave them on the plate like most of the diners finishing around the same time we did? I'm a freaking diabetic and I still ate mine (justified by only eating Wasa crackers, mushroom soup and oatmeal leading up to dinner, ugh, that sounds so beige and Eastern Bloc). I did manage to save the two take home gift chocolates until the following day.
Jean Georges * 1 Central Park West, New York, NY