Clamming Up
We had time to kill between early dinner/late lunch at Chevy's (first choice Jose Tejas was ten people deep waiting at the bar. Any time before 9:30pm on a weekend and you're asking for trouble) and a 9:45pm showing of Gran Torino at the theater next door (it was the only vaguely watchable movie playing. Notorious was sold out and My Bloody Valentine was only in 2-D, lame) so I decided to find the answer to a pressing question I've always had. Where do people drink in the suburbs? At Applebee's and Outback Steakhouse? You occasionally see strip mall sports bars, but seriously, where do people go?
This required detouring off chain-clogged Route 1 and scouring side streets. In this case, Wood Avenue in Linden, New Jersey, my favorite blue collar semi-suburb across from Staten Island. There were actual taverns along the little downtown strip dotted with Polish-Czech video stores and Eastern European butchers. Linden reminds me a little of Roseanne's Lanford with the addition of minorities (the ratio of black teens to white adults at the movie theater was like 9-to-1).
I couldn't decide which place to pick. Darkened windows with beer brand neon give little clue to what you might be getting into once you walk through a door. But when I spied anthropomorphic clams, one with a bottle of beer and another chomping on a piece of pizza, I knew Linfield Inn was our bar.
Still, I'm hesitant to walk into dive bars in neighborhoods I'm not super familiar with. Will it be tight-knit and cold shoulders or easy going and friendly? I never ventured into a single old man bar along Fresh Pond Road the three years I lived in another Eastern European enclave, Ridgewood, Queens because I'm just not the type who wins over strangers everywhere they go. I'm not a regular anywhere. (I'm still not sure why my coffee cart guy seems so fond of me [I feel incredibly guilty since moving floors and getting a coffee machine. I only stop by every few weeks now and my absence has been noted]. Maybe smiling and saying please and thank you is enough for some.)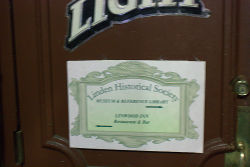 After I opened the door in the back entrance in the parking lot, I was taken with the sign on the interior door beneath the Bud Light logo pointing out the bar and restaurant on the left and a historical society and reference library on the right. Really? Now we were talking. My photo is blurred because I was paranoid someone was going to push the door into me while quickly snapping it.
A few tables were finishing dinner as we entered and the rest of the clientele was made up of a handful of 45+ year old guys who all seemed friendly with the younger bartenders. A little later two college-aged couples came in together and ordered platters of fried food. A gruff Walt Kowalski (technically, I didn't have this thought until after seeing Gran Torino) type showed up and started busting the bartenders' balls and made me wonder when racial epithets might start flying. A disproportionate amount of customers were drinking cranberry juice and vodka.
I turned down the offer a menu because we'd just eaten, but now I regret not at least seeing what was on it. Was the burger advertised on the sign outside worth trying? And what about those clams? I also regret not having time to stay for a second drink or for the live entertainment promised at 10pm. To date, my only experience with live entertainment near Route 1 was the guy belting out '90s covers at Cheeseburger in Paradise.
In 2009, I vow to explore more side streets and independent operators. Ignoring the siren call of suburban chain restaurants won't be easy but I'm up for the challenge.