Hope & Anchor

When passing through Red Hook James occasionally suggests stopping at Hope & Anchor. I never share his enthusiasm. This is based on little evidence since I've only eaten there once, and quite some time ago when it first opened. The place struck me as kind of fun with adequate food if you happened to be in the area but not worth a special trip. Its two main attractions being drag karaoke nights and prices befitting a real diner not a faux one.
But it seemed like a fitting place for an early weeknight meal after looking at house for sale in Red Hook owned by the proprietors of Hook & Anchor, no less. (For the record, the home was lovely but just not me. I'm really more clean lines modern where this was a touch Cottage Living [R.I.P.] mixed with turn-of-the-century maritime. Those bearded Brooklyn foodie types would have a heyday wainscoting, wallpapering and tin ceiling-ing the hell out of the place. Moldings, chandeliers and dumbwaiter already in place [I really loved the dumbwaiter]. The unfinished basement would be perfect for crafting sassafras bitters and hanging homemade wild boar sausages to cure.)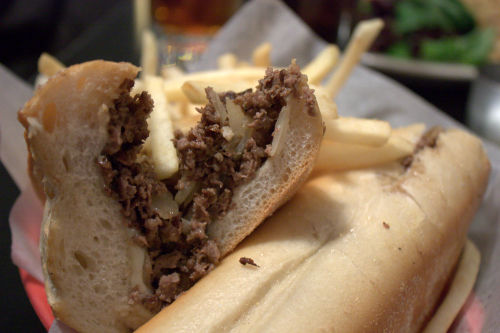 If you're in a diner, there's no sense in ordering a salad. It's grease or nothing, so it was cheesesteak and fries for me. The massive sandwich (which I made into a second dinner the following night) satisfied my unhealthy urge, but in a perfect world the meat would've been sliced instead of ground and oozing with Cheez Whiz instead of the indeterminate melted white cheese applied with a light hand. Red Hook might feel as far as a sixth borough but it is no Philadelphia. 
The pumpkin lager was no longer being served, but the suggested cherry was a fine enough substitute. Fruity beers do not give me pause. Generally, well-done ones like this Lakefront Brewery version aren't cloying. I do draw the line at flavored coffee, though. (1/13/08)
I hadn't been back since the place first opened, but since I was supposed to
be reviewing Sunny's up the street, and Red Hook's not exactly rife with
restaurants, it warranted a visit.
The drag hostess and karaoke were new interesting touches. Bobby Goldsboro's
"Honey," always warms the cockles of my heart (one of the best death related
ditties ever).
And the food…well, I'd just given up on the Atkin's diet and I went wild
with a sandwich full of roasted pork — and I'm not joking — mozzarella
sticks. Umm, bread wasn't good enough for a carb-freak, cheese covered in
breading really gilded the lily. It was like something a kid would make up
like putting fritos or chips inside bologna sandwiches. And did I mention it
came with fries? Carb Power! (2/28/03)
This is one of those places that makes me wish I had a neighborhood joint
that wasn't Taco Bell or KFC. This modern take on a diner is sort of odd,
smack in the middle of desolate Red Hook. And the clientele reflects this
semi-neighborhood. I saw locals teens picking up burgers and shakes to go, a
stonewashed cut-offs, big-haired woman smoking and having a cocktail at the
dining counter cum bar, and educated, middle-class food types who'd probably
read about the place in New York. I don't know that I'm any of those
things, really.
The menu's not terribly fancy, they've got hot wings and burgers, though it
delves into fare like balsamic-glazed calf's liver and seared monkfish. I
had the clam cakes, which were more battery than clammy, a salad with seared
tuna (which I would've preferred pinker) and a hot fudge sundae that didn't
seem to have enough syrup (the rotating refrigerated dessert case held my
attention all evening–why didn't I just do the chocolate cake?). With that
said, I still liked the place. The vibe is nice, everything seems earnest
and well, hopeful. (7/?/02)

Hope & Anchor * 347 Van Brunt St., Brooklyn, NY