Diandin Leluk

When a co-worker I don't speak with often asked me about my vacation yesterday I realized how pissed I still am about the Thailand debacle. I have not accepted and moved on yet and neither has James who recently stated, "I'm not eating Thai food for six years." I don't truly believe that boycott will last but I can identify with the ire.
So desperate to rectify our aborted Bangkok eating trek, we researched where to find real Thai food in both Singapore (Golden Mile Complex) and Hong Kong (Kowloon City). In fact, our first meal in Singapore was at Diandin Leluk. Larb before laksa.
Our hopes were not high–they mangle Thai food in Malaysia and they share a freaking border—and no, our appetite was not appeased. The surroundings were definitely promising, though. Everything I read online painted an enticing picture of a dumpy '70s shithole that could barely be called a mall by Singaporean standards. There's talk of tearing down the entire building, which is home to about 20 Thai businesses including many hairdressers, bars and stores that were the Asian equivalent of Dee & Dee or Pretty Girl.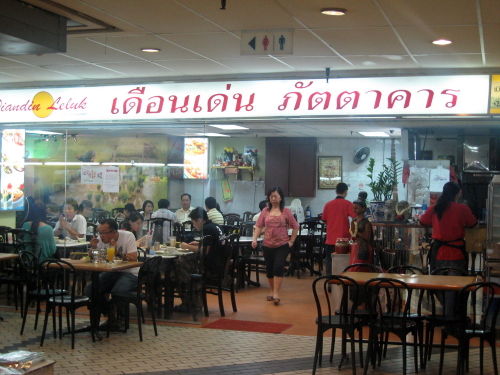 Part of the problem may have been us, we know better than to settle on the restaurant with English menus (this was Singapore, though) but we were kind of exhausted and didn't have the spirit to attempt one of the eateries with only Thai scrawled on paper signs on the wall. And many of the small restaurants seemed like they were more hangouts for drinking beer and playing dice. I wasn't convinced that they served great food either.
The condiments seemed right: sugar, chile power, fish sauce, chiles in vinegar and crushed peanuts. The menu seemed odd, though. We ended up ordering weird things because absolutely nothing appealed. I would've predicted that the food would be Chinese-y and that was the case, lots of stir-fries and not really any curries.
We almost left but instead went with it and ordered, yes, fried rice. If you can't beat them, join them.
Ok, the seafood salad was rightly spicy and tart and contained a good amount of shrimp, squid and chunks of fish.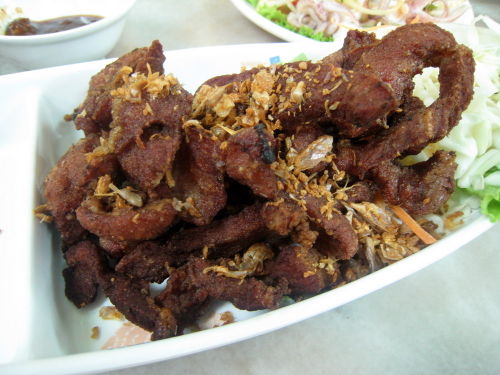 Fried pork with chile dip is more of a drinking food than a dinner dish. That was fine, we had big bottles of Tiger beer as an accompaniment.
I think we should've ordered tom yum, everyone had it on their tables, but I just never order soup unless it's noodle soup and then that's a meal unto itself. The food wasn't bad, it simply wasn't what we wanted. We were so underwhelmed that we nixed seeking out Thai food in Kowloon City. It's usually wise to stick with the local cuisine anyway, though we did go a little wild and paid a visit to an Argentine steakhouse in Hong Kong. We couldn't resist the novelty.
Diandin Leluk * 5001 Beach Rd., Singapore