And to All a Good Night
I've spent many of my ten December twenty-fifths in NYC sitting in apartment alone. Last year I did the classic movie and dinner with a couple friends (I still think I'm scarred from Juno). This year I was just going to cook a shitload of Thai food for myself (yes, I had to take advantage of James being out of town, now that he's boycotted Thai food for six years) then decided to throw an impromptu mini-party after finding out that a ton of people (ok, nine is a ton in my world) I knew were staying in town this year. I enticed six to come to Carroll Gardens for Christmas.
I don't do Christmas in a big way, which is to say I'm not a huge participant in gift exchanges. When I hear others discussing present-buying for a slew of cousins, in-laws and other loose extended family members, I'm bowled over. Call me a scrooge but I only buy gifts for my mom, sister and boyfriend. I might swap trinkety things with a few friends, but that's it. Hence, my haul is not mammoth. Get what you give.
This season, I got flowers and tons of cheese, six Snowdonia cheddars from my sister and chevre d'argental, gres des vosges and humboldt fog plus quince paste from James. I've noticed that after being diagnosed with diabetes this year I've received lots of flowers and cheese on occasions I would normally get candy. I could really go for a box of See's right now but I do love dairy products very much. (I've pretty much given up on even a vaguely healthy eating regimen until January anyway. I relinquished my salads, yogurt and oatmeal, no sugar routine on Thanksgiving en route to S.E. Asia and have yet to resume the bothersome strictness. I did start running again this week now that I've finally gotten that pseudo-SARS out of my system after self-medicating with Mexican Cipro.)
Also, a digital SLR, which has me a little unnerved. I haven't even used it yet, if that's not obvious from the murky photos below. Blog-wise, the thing is that you'd think nicer restaurants would require nicer photos but there's no way in hell I'm pulling out a chunky camera in say, Le Bernadin. That's just too dorky (I was going to say gay but that new Think Before You Speak ad campaign has wisened me up to such hurtful language, though until they produce anti-retarded PSAs, I will continue to use that immature adjective). Until I'm embolded, I'm more likely to take pretty photos of tacos or pork buns.
I can't forget bath salts with Japanese delicate pretty boy illustrations that I love so much, socks with an anthropomorphic corn dog and Goldlion antibacterial striped toe socks. Goldlion is a weird obsession of James'. On our first visit to Singapore in '03 he bought a pair of Goldlion (a Chinese brand that seems geared towards middle aged men) pants at Takashimaya and now we always find the Goldlion section at Asian department stores, whether it be Wing On, Isetan, Robinsons or Tangs.
Ok, onto the food. Prepping is no small feat in your typical Brooklyn kitchen, and I crammed in a little mise en place next to the coffee maker and toaster. I had all four burners occupied and every inch of counter and fridge space (inside and on top) filled to capacity. But apparently, tiny kitchen cooking is all the rage. And I've always suspected that people with giant islands and Viking ranges are the least likely to use such luxuries.
I don't know that it's actually traditional, but the coconut-pumpkin soup from old standby Hot Sour Salty Sweet is always a hit and one of the only concessions I made to my poor vegetarian diners. I used butternut squash because Wegmans is too fancy to carry Caribbean staples like calabaza (they do sell truffles, however) which I'd normally employ. I also pureed half of the squash into the broth and kept the other half in whole cubes rather than the keeping it all cubed. I like the orange on orange.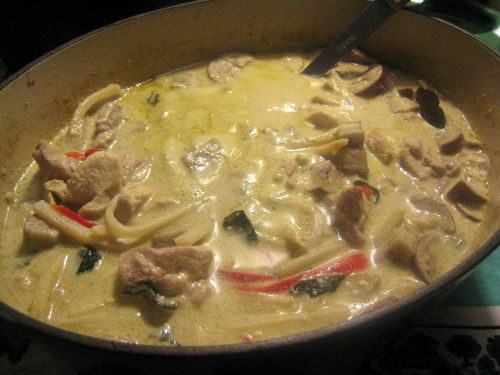 I didn't have time or energy to make green curry paste from scratch though I would have if I were making fewer dishes. I adapted a recipe from It Rains Fishes and used chicken instead of pork, Japanese eggplant instead of Thai, apple and pea (this did bother me) and added bamboo shoots just because I like them. This didn't turn out to be anything special, what tasted spicy the night before turned out to be fairly mild on Thursday. I still think it was better than anything I could've ordered in Carroll Gardens, though.
Pork with snake beans and chile paste is really pork belly with long beans as a garnish. I've had pad prik king pork and beans in restaurants before and the meat to vegetable proportions are more balanced. For this recipe, though, I followed one from Classic Thai Cuisine that calls for 7 ounces of pork to 2 ounces of long beans. I tripled that but kept the same meat-heavy ratio. And it was damn good, if I do say so myself. Either you're passionate about fatty pork or you're not. There's no pretending there's anything healthy about it.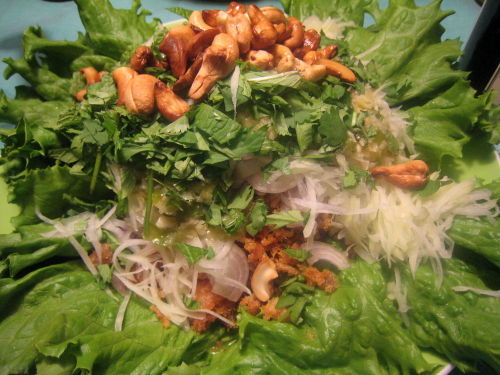 Traditional catfish mango salad became catfish papaya salad. I was lucky enough to find green papaya at all. I usually avoid making these salads and have ended up using green apple in the past. Deep frying is kind of a pain at a party because I don't have one of those open kitchens made for entertaining and you get stuck cooking in an isolated kitchen while everyone is eating in the living room (James has mentioned this same problem with Super Bowl and buffalo wings, he never gets to watch the game). With that said, I think this was very successful and the perfect combination of crispy, crunchy, hot and sour. Maybe my favorite dish. I used a recipe from Dancing Shrimp that doesn't appear to be online anywhere.
Karen astutely noticed beef was absent from my planned menu and brought a rich panang curry. It made me wish I had gone with my original plan to make panang instead of green since green can be soupy and dull in the wrong hands, i.e. my hands. Though it may seem so, I'm absolutely not a control freak, I love it when people bring food to my parties (ahem, as long as it fits the theme).
Mario brought vegetarian lettuce wraps with peanut sauce. This was also much appreciated because I didn't want the meat-averse to starve.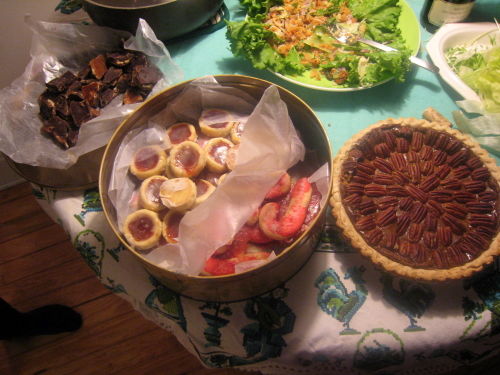 Jane, always an avid baker, made cookies and confections and Jessica crafted a vegan pumpkin pie, which was odd because I've never known her to bake. She forgot the whipped cream but we all survived because Sherri brought vanilla goat milk ice cream. Sure, goat milk product cancel out animal-free nature of vegan pie but the combo is surprisingly good.
Seven bottles of wine, a six-pack of Singha and countless You Tube videos of people falling and portapotty users in Japan getting punked later, I deemed the Christmas party a success (I mean, in my head, that's not something you declare aloud unless you're a freak). Though for me, the highlight was when Norbit came on HBO. Nothing like Eddie Murphy in a fat suit to put me in the holiday spirit.
Once again, it has became apparent that I'm averse to including humans in photos, both myself and others. This is absolutely not intentional or any sort of backlash to endless Facebook party pics. I just forget. Maybe this could be a 2009 resolution, as opposed to resolutions as I am, to focus more on people than food in the new year. We'll see.