Red Robin

Despite being a Northwest chain, I don't think I've eaten at a Red Robin more than once and nearly two decades ago. I have only a vague youthful memory of restaurant, and the nagging feeling that I perceived it as upscale. I'm not sure if that says more about Oregon or me.
I keep seeing their TV ads and just like with Sonic's commercials, I instantly feel compelled to look up just where these non-NYC chains exist in these parts.  New Jersey, of course. I figured I could squeeze in a visit while scoping out the Norma Kamali collection at Wal-Mart (kind of eh, but I enjoy being a L instead of an XL at Wal-Mart. Oh, just figured out that I'm now a L by most chain store standards–guess my sugar/starch limiting has finally paid off. Unfortunately, "bottomless fries" will show up later in this missive) and picking up hair darkening shampoo and conditioner at Menlo Park Mall's Aveda (I overheard the cashier mention her food court break at Chick-fil-A. I totally would've gone if Red Robin wasn't already on my itinerary. Even she knew about the "hidden" NYU cafeteria Chick-fil-A).
James wanted to go to Five Guys, but what's the fun in that? We can walk to the one in Brooklyn Heights if we wanted. No, I'd rather spend $20 in tolls and drive 34 miles to find out that frankly, even a well-done Five Guys burger is kind of preferable to Red Robin's "gourmet burgers" cooked to an internal temperature of your choice.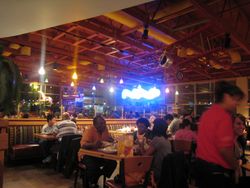 It wasn't so much the food, but the inept service and overall Saturday night suburban mayhem that detracted. Yes, I have standards even for chain restaurants.
I wasn't sure what to make of the we card if you look under 39 1/ 2 deal. I don't think they were joking, but I still chortled when asked for my ID and being pointed at the button stating just that pinned to our server's (who'd just turned 21, we were informed for no reason) shirt. Like if I'm going to illegally purchase drinks, I'm heading to a NJ Red Robin. I know they're just doing what they're told, and maybe I should've been more weirded out that the bartender who barely looked out of middle-school didn't card me earlier. I like to believe I don't look 40+ even to someone half my age.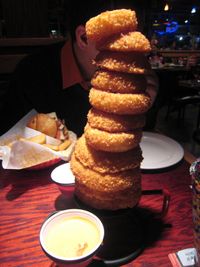 We took cues from the locals and ordered the onion ring appetizer, which is admittedly kind of an odd starter. And it practically became a dessert since we weren't brought our tower until asking about it after we'd received our burgers. This is the glitch that soured me. I don't think it's petty to have a separation between courses whether that is onion rings on a pole served with dipping sauces and a jalapeno laden burger or prawns with sunchoke puree and garlic confit and grass fed burger with Cotswold cheese (the same timing issue bothered me at James in Prospect Heights a few months ago).
I'm tempted to declare chipotle sauce (mayo) the new ranch but it appears that America is embracing the two equally, together. Both came with these onion rings. And the combo isn't exactly new to Frito-Lay or Rachael Ray, for that matter.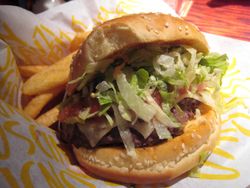 I'm not one who rambles on about fat percentages or meat blend ratios, but I will say that lately I've swung into the less is more camp. If you can't even taste the meat in your burger, then what's the point? There was a bit too much going on in this 5 Alarm Burger, which was more than obvious from the name. All the lettuce, jalapeños, salsa and tomatoes overwhelmed and I couldn't even detect the pepperjack cheese even though I could see it. Really, I was more interested in the fries and onion rings and consequently grew too full too quickly to eat more than a third of this. Beer and starch has a way of doing that.
The thick cut fries sprinkled with their trademark seasoning (that also sits in a big plastic shaker on the table) were tasty enough that I ate most of them, but I'd much prefer a thin crispy fry to a fat meaty one. I think they make them hearty on purpose to eliminate anyone actually taking them up on their bottomless fry promise. Yes, you heard that right–all-you-can-eat fries.
Red Robin * 6200 Hadley Rd., South Plainfield, NJ