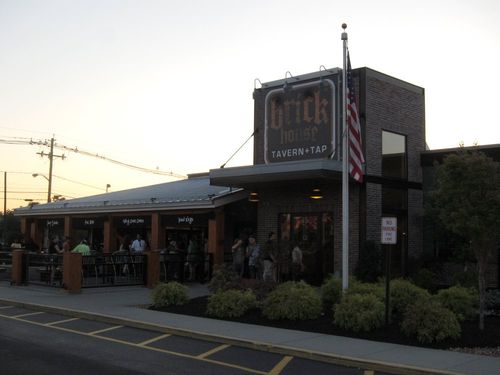 Brick House Tavern + Tap
The shtick: Man caves for the masses. Tim Allen embodied in a restaurant.
The signatures: Generous use of tater tots, Texas Toast, and chiles, plus 100-ounce beer bongs.
The new Bloomin' Onion: Deep-fried olives stuffed with Italian sausage and brie.
You would be forgiven for assuming that Guy Fieri had something to do with this restaurant, which is currently the fastest-growing chain in the US.  (Tex Wasabi's and Johnny Garlic's are his only handiwork, and confined to Northern California. Then again, something called Tommy Lasagna recently opened in Union Square, so lines are blurring.)  All of the signs are there: flames in the form of the patio fire pit and interior fireplace that's lit even during the sticky height of summer, lending a New Orleans gentility, and quotes like "Pain is inevitable; suffering is optional" stenciled on the walls in inky Olde English fonts shout their xtreme (not Extreme) '90s sensibility (they did play The Offspring on both my visits—yes, I've been more than once).
Anyone offended by the new Dr. Pepper "It's not for women" ad campaign, should plug their ears when ordering a beer (even if Pinot Grigio and White Zinfandel are on the drinks menu, you are not ordering wine). You might be asked "Sissy or man-sized?" Despite the attempts at bravado, plenty of the clientele is composed of the fairer sex; Rutgers students make up a high proportion, as do families allowing small children to run around the open area set up with recliners with cup holders and sofas facing flat screen TVs like a Vegas casino's sports bar, minus the smoke and waitresses in nude hosiery.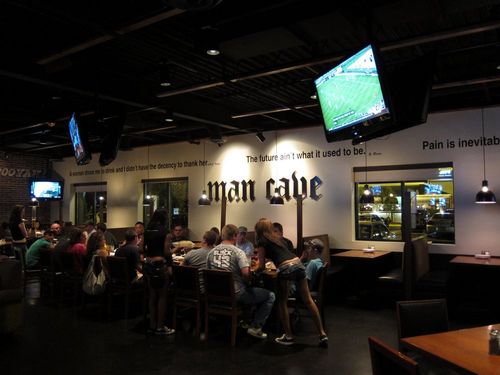 Bare legs rule here. And that's the thing, despite the servers' denim cut-offs and snug, black, cropped deep-V-neck polos, they manage to pull off a small town wholesomeness that's less Daisy Duke and more Sookie Stackhouse. Good girls. Maybe it's the low-top Converse that tames the overall look. Oddly, the bartenders are more covered-up, most opting to wear fitted, low-rise yoga pants instead of short shorts. More than one young woman wore glasses, and not quirky oversized Sally Jesse Raphael throwbacks, but practical wire-frames, a sexy-nerd look more fit for a go-go dancer in a dreary Chinese factory city like Guangzhou—or at least that's what I saw recently on The Last Train Home on PBS (neither the subway, nor working will feel so soul-crushing after watching this documentary).
It goes without saying that food-wise, bigger is better, with bold being runner-up (the salt and pepper shakers are the size of diner sugar dispensers). Burgers can have up to three "bricks"— what we pussies might call patties—added on. If you also want a fried egg and dijonnaise included that would be called The Gun Show Burger (because eggs and egg-based condiments are like weapons?). Salads (all four of them) are referred to as "roughage." Cupcakes are offered for dessert, and lest you confuse these confections with something cosmo-sippers would line-up for, they've dubbed them Double D Cup Cakes. If anything, Brick House knows how to work a theme—and the bacon-and-Tabasco-spiked devilled eggs and potato chips with queso are great bar snacks—America's Next Great Restaurant contestants could've learned a lot.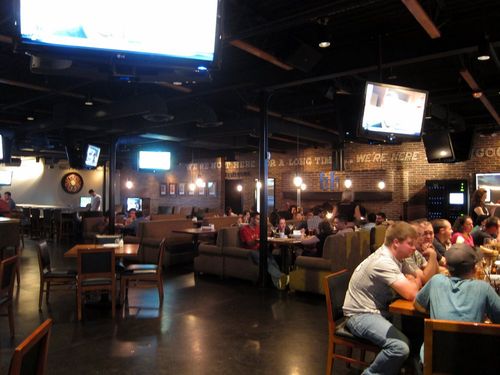 Sure, Manhattan has a Hooter's and Canz just opened in Murray Hill (and will be getting a reality show on VH1) but breastaurants seem less cheesy outside the confines of the city, and Brick House, dare I say it, feels more upscale, despite its dedicated parking spots for motorcycles. Wild Hogs are welcome.