South Brooklyn Pizza

If I am offered free pizza a few blocks from my apartment, the odds are that I'll say yes (though I might balk at Papa John's chicken bacon ranch, also nearby). And so I sampled a few of South Brooklyn Pizza's new offerings  this weekend. I'm cheap and lazy. Why not?
On my first and last visit to South Brooklyn Pizza I was a little put off by the unabashedly burnt crust. But that was my only beef—there weren't any service glitches and I wasn't wildly bothered by the margherita-only menu (I never did get a cookie, though).
Not that I didn't think it was odd to serve only one style of pizza. Now they are trying to rectify the situation with three new pies. Clams and oregano appear to be the highlight. In addition to the clam pie there are also clams on the half shell and baked breadcrumb-topped clams oreganata.
Having never tried Frank Pepe's New Haven original or even a new-breed Brooklyn version a la Franny's, I can only judge this on its own. The flavor was a touch salty, though I'm not sure if that came from the clams or the pancetta. I tend to think it was shellfish brininess and not unpleasing. I liked this pizza, but I'd be curious to hear other opinions on it.
I started doubting myself when I was told that this was an oregano pizza because there was no way all that arugula-looking foliage was said stemmy herb. It turned out to be pizza verde.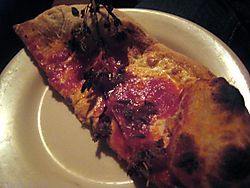 Now, this is a slice of oregano pizza. The classic pizza herb comes on strong. I'm pretty sure you're not supposed to eat it.
The crust has much improved. Now there's just a little char, enough to stave off doughiness. Hopefully, this is a new standard and wasn't a one-night-only fluke. I wouldn't say that South Brooklyn Pizza is a destination pie like Lucali's but I think it's a fine enough addition to the lower end of Carroll Gardens. We don't have much down here. (9/15/08)
South Brooklyn Pizza is the anti-Guerrin. It's kind of a strange breed all around. I wasn't sure what to make of a new pizzeria boasting a coveted coal oven that happens to be attached to P.J. Hanley's, the corner Irish bar that used to have a dank old-school locals-only vibe and now has an outdoor patio that's a magnet for toddlers, their parents and those who enjoy a kindler gentler Brooklyn. This has not scared off drunk, screaming lunkheads, however.
As it stands, SBP only serves one pizza: Cheese. That's it, a sparing mix of mozzarella, Asiago and Parmesan (they dropped Fontina, part of the original blend) with a few scatters of basil leaves. I suppose that would be called pizza margherita. There's not a surfeit of cheese, certainly no gooey dairy dripping Buenos Aires-style. The fresh tomato sauce dominates and I'm not sure that it's supposed to.
The main source of contention is the crust. If you've heard anything about this place, it's that they burn their pies. And yeah, the edges were charcoal black. Ouch, just looking at this photo makes me feel sunburned. The bottom was just about right, though, as if they haven't figured out a balance much like the difficulty in cooking the dark and light meat in a turkey without drying the whole bird out.
It's to be seen how experimentation and not cleaving to tradition (the pizzas aren't round but free form like an oblong galette) will serve them. I'm guessing they're trying to compete with ever-packed Lucali, up the street, without being on even ground, at least not yet.
They do provide things Lucali doesn't, the most obvious being a table without having to wait for an hour outside. They stay open later, too, and have a liquor license with an after 11pm happy hour (pizza is free at the bar after 10). Last Saturday we walked by a sandwich board advertising this fact, and while the only takers appeared to be staff and friends, we stopped in anyway and were included in a round of Stoli Raspberry shots.
Oh, and chocolate chip cookies. Not that I experienced their only other menu (hypothetical, that is, there are no menus) item first hand. We were offered two oven baked treats at meal's end only to be told minutes later that they'd run out. I didn't even want one until being told that I couldn't have one. (6/27/08)
South Brooklyn Pizza * 451 Court St., Brooklyn, NY