This Takes the Cake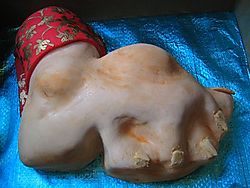 As long as I live I'll never understand the formula that creates an instant blog hit. I know enough that deceptive simplicity with a singular focus is key (and that I'm all about murkiness and scattered thinking).
The latest blog in funny and to-the-point category is Cake Wrecks, one that I've noticed quite a few food blogs linking to over the past week or so.
I immediately thought of my friend Jane who has baked some wonderfully grotesque cakes in her day.
And apparently, this sweet-centric blog has thought of her too. My attention was just drawn to a post about an edible Chinese bound foot beauty of hers that's provoked a stupendous amount of grossed-out comments, a few bizarrely P.C.
Who knew freakish baked goods could stimulate so much online conversation?