Dovetail

I tend to think people who have a hard time navigating Brooklyn, or rather flat out refuse to visit Brooklyn, are on the retarded side. But maybe I should lighten up because I'm clueless about the nuances of navigating anything uptown. On my way to my birthday dinner, I managed to end up at 125th Street when I only meant to go to 81st.
Normally, this wouldn't be the biggest deal– how many times do you arrive on the dot for a reservation only to be made to wait at the bar–but it turns out that Dovetail is persnickety about punctuality. It was just frustrating because I'm always on time, if not on the early side.
Well, my sweaty and late arrival at 7:15 (by my watch—7:20 according to James) was tardy enough that our 7pm table was given away to walk-ins. Fine, do Friday evening business as you must. However, what was kind of offputting according to James was that the hostess (who oddly dressed like a woman in her 40s but was probably two decades younger) apparently gave him the once over, then asked in so many words if his date was really going to show up. Like it's been 15 minutes, are you sure that don't want to just give up this waiting charade? I don't know that that's the best way to start off a customer's dining experience.
So, I was initially soured a bit. I try to separate service from food but when you're spending hundreds of dollars the two are kind of inextricable. You start thinking in more critical terms. I will say that the servers were professional and gracious, though we both got paranoid when a besuited gentleman we hadn't seen all night, likely a manager, came over towards the end of the meal to check on us and took our dessert order. We became convinced that we were being watched, bugged and/or expedited for taking too long at the table.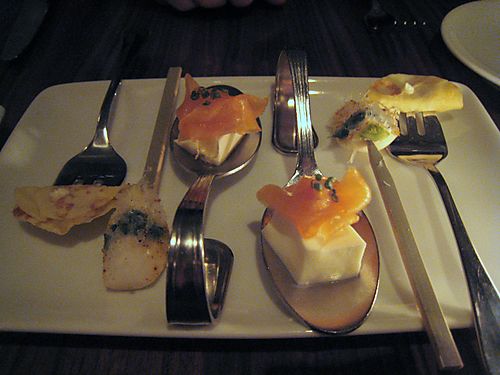 Amuses: a mini taco-like crepe, turnip, and salmon with crème fraiche.
I was excited about the deconstructed muffaleta and wasn't disappointed. I would never think to batter and pan-fry a lamb's tongue and serve it with ham, salami and provolone, thinly sliced olive ovals and a capery mayonnaise. But I'm glad that someone else thought of this creation.
Compare the striated meat and cheese cross section of a classic muffaletta to Dovetail's more refined roulade of layers that they call presse.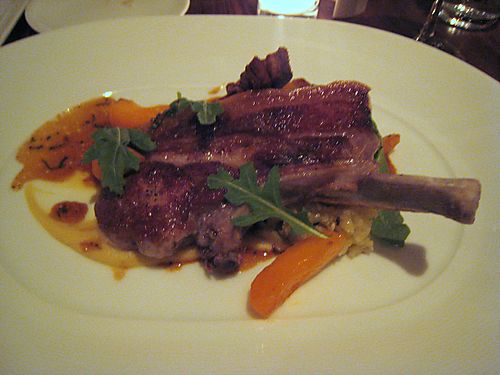 I'm not certain what cut of pork this is. The chop contained nice amounts of fat and char, and there's a crispy strip tucked behind. I wasn't imagining the chickpeas and fennel united in a chunky Indian-spiced puree, or the peaches at all. The meat was so good, though, that I didn't ponder the slightly unharmonious side components.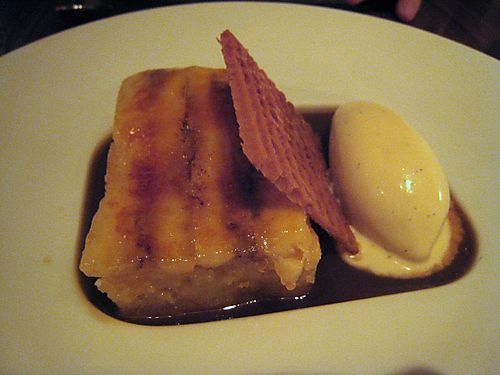 I recently discovered that my birthday falls on National Hot Fudge Sundae day. I do love a sundae but that's the type of dessert you can only ever find (at least in a straightforward fashion) at chain restaurants or Luger (no, you're not going to catch me saying Luger's). Instead, I shared a super buttery brown sugared bread pudding. It was the bacon brittle and rum ice cream that sold me.
Curry marshmallows and fudgey squares were our parting treats.
Clearly, I'm more provincial than I'd care to admit. I like to imagine that I'm intrepid but in the future I'll probably limit special occasion dining to restaurants that are less than an hour away by subway. But I wouldn't hesitate recommending Dovetail to anyone residing on the Upper West Side or vicinity.
Dovetail * 103 W. 77th St., New York, NY