Feliz Cumpleaños
Ah, it's the one time of year where I willingly post a photo of myself. I don't know when I decided that it would be a good idea every July 25th (yes, I know it's the 27th now) but it's a not-terribly-useful habit I've stuck with. So, this is 36. It could be worse.
Friday, I had a birthday dinner at Dovetail, which was odd because I never eat (or do anything) on the Upper West Side. The food was likable, service was a little strange. More on that later.
Last night I had a low-key party with a Spanish-ish food theme. As to be expected, I drank too much (it's all I can do to get these words out in a semi-coherent fashion). What I didn't anticipate was receiving a copy of Sing Blue Silver, which I foisted on my captive audience.
Now that I've come to terms with my aged status, I can openly reminisce about the big deal it was when this Duran Duran documentary aired on MTV a full 24 years ago. I recall having to use the timer on the VCR and being scared to death that it wouldn't record properly. DVR had changed my life.
I also received a soda siphon, the two liqueurs I've been meaning to track down: crème de violette and maraschino, a Sephora gift certificate, Vosges bacon chocolate bar, plastic Japanese food containers with anthropomorphic characters, a few bottles of wine including a Riesling in a crazy pink cat shaped bottle, a Spanish grammar book (from my Spanish teacher, duh) and a few more items.
Back to the food. The more I looked at last month's alfresco feature in Gourmet (this month's has totally upped the ante, by the way) the more I realized how good the recipes sounded. I'm not a hater, so I borrowed two dishes. I must point out that they were consumed completely indoors.
I couldn't bear to also use the white sangria recipe included with this set menu and opted for a Thai basil infused sangria from Food & Wine that ended up having zero basil flavor.
Manchego with almonds and green olives
Roasted red peppers and cauliflower with caper vinaigrette
While still not a greenmarket convert, I will concede that you need quality tomatoes if you're going to make gazpacho. I wasn't thrilled about spending $35 on the summery ingredient, but it had to be done. I did have to nix serving Serrano ham to keep within a reasonable budget. I didn't expect the color to be so orange. I did throw in a few yellow and green-striped tomatoes, which could've toned down the more typical ruddiness. Update: hmm…I brought leftovers for lunch and just noticed a strange bitter undercurrent, likely from too old garlic. I didn't taste much of the soup on Saturday so I didn't catch it, and it's not like there would've been anything I could've done about it anyway. It's a shame, though.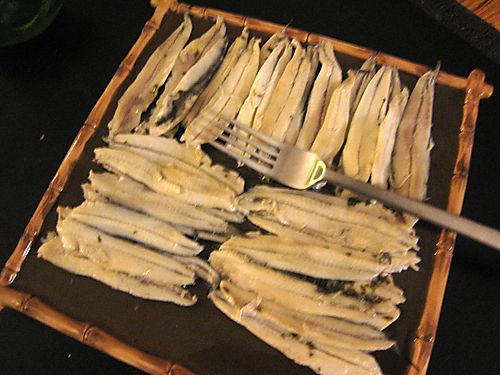 Boquerones are as easy as buying them and placing the vinegary fillets on a plate. I was actually surprised that these disappeared so quickly because people are generally anti-anchovy.
I braised chorizo in hard cider with a bay leaf based on a recipe from The New Spanish Table. This was also insanely simple.
Murcia, mahon and cabrales were served with membrillo and fig-almond cake.
There was also an Oreo ice cream cake from Baskin Robins (I didn't grow up with Carvel so Cookipuss and Fudgy the Whale mean nothing to me) that I neglected to take a photo of.