Don Julio

Steak for dinner is logical. It's even an appropriate breakfast partner for eggs. But somehow steak just doesn't seem like a lunch food. I quickly got over my narrow minded thinking, though.
Don Julio was intended as full-blown dinner destination the night before but after walking all day I was too burnt out to walk the 25 minutes or so to get there (we went to El Trapiche instead). I couldn't let this parrilla slip of my schedule completely.
I started feeling uncomfortable about the lack of vegetables being ingested in vacation so we ordered an arugula salad. Well, it came with a shitload of provolone and sun-dried tomatoes, so no, not terribly healthy. We were brought olive oil, balsamic vinegar and a tiny pitcher of lemon juice to craft our own dressing. This seemed to be commonplace in the city. I was just going to mention how you never see crap like thousand island dressing, but I take that back. There's a popular condiment called "golf sauce" served with things like hearts of palm and avocados and it's totally mixed mayonnaise and ketchup.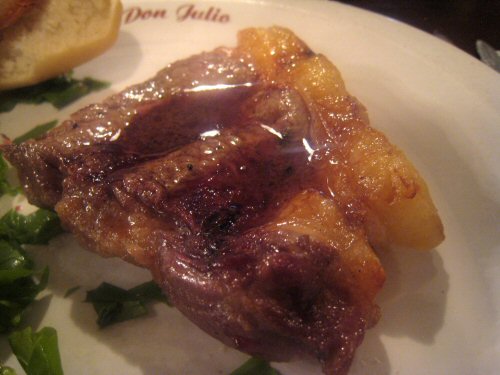 Being the middle of the afternoon we split an ojo de bife, we didn't want to get bogged down, but frankly we could've easily eaten one each no problem. There's definitely a problem with sizing consistency in Buenos Aires. We never knew if we were over or under ordering. If you've been following along, the first ojo de bife we ordered could've served six.
This is the amount of fat I like on my steaks. Is that wrong? It's kind of a different beast than the NYC Peter Luger (no S on the end of I'll gouge you with a dull steak knife) porterhouse standard. I didn't encounter much bone-in meat, but that's probably due to my ordering. I really shouldn't reminisce about food like this while eating. I was totally fine with my tilapia and blue berries (on the side, not together) until I started thinking about charred edges and grilled smokiness.
Chinchulines (intestines) were mine, and mine only. This was a half order and it was plenty. I would've loved to sample a whole range of offal: sweetbreads, kidneys, tripe and so on, but that's just not doable without a crowd joining in. I honestly don't find organs offputting. These weren't tough, just chewy with a bit of snappy bite and a creamy texture. These are not the same type of long, skinny intestines you get a parrillas in NYC.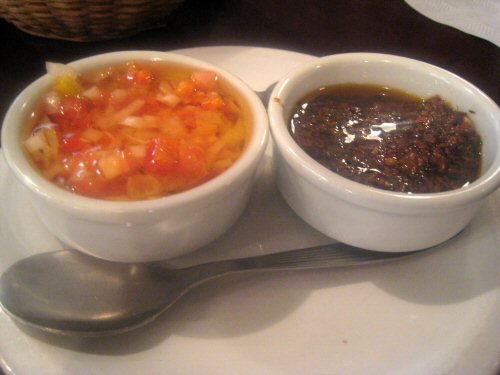 This is the first place where we received condiments: chimichurri and a chunky onion one. I'm still not clear on when they crack out the chimichurri. In my brief experience, it seemed that we only got the herby sauce when we ordered meat in addition to steak. Things like innards or sausages.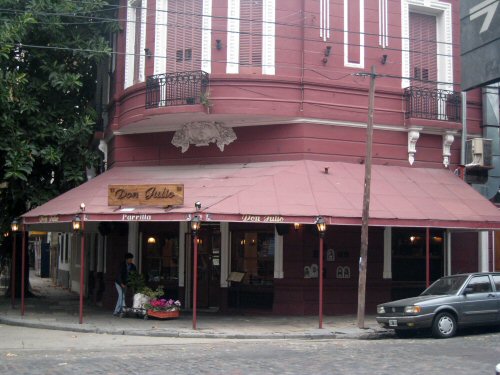 Don Julio * Guatemala 4691, Buenos Aires, Argentina