Grand Sichuan House

I'm not sure how I managed end up with spice-less food at Grand Sichuan House. I was having an off night, not them, and ordered strangely. I've been here more times than I've documented (and wrote a review for Nymag.com) and on my last visit enjoyed Chongqing chicken and beef with cumin, both spicy.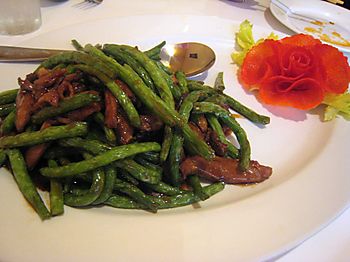 This time I fell back on pork with leeks (or garlic chives as I think the menu says) because it's essentially stir-fried bacon and that's irresistible. I also ordered the duck with string beans because I was curious. It's really the same as any Sichuan string bean dish but with a less typical meat. They certainly present it prettily. But I needed a dish that contrasted more with the pork.
We also had eggplant, which is rich and garlicky but not spicy. The vegetable doesn't have to be fiery but it didn't help balance anything. One of these days I'll order the loofah just to see what one of those sponges tastes like before its all dried out.
At least the wontons had heat from the chile oil. I really wanted my usual beef tendons, but the last time I ate those I threw up violently the rest of the day (not as a direct result, but because I was already sick) and strangely, I had been throwing up the night before this visit because James poisoned me with undercooked jerk chicken so I had bad connotations with those tendons. I missed them, though.
I have observed that there seems to be three types of diners (or attempted diners) at GSH: groups of young Chinese, groups of young loud boastful foodies and locals looking for fried rice and chicken wings. They do serve Chinese-American food but it was kind of uncomfortable seeing a Latino guy asking for "beef and fried rice" and angering the counter woman who demanded, "what kind of beef?" Neither were English as a first language and I hate misunderstanding-style traumas even when I'm just a bystander. The guy ended up leaving. There is a typical take-out joint just across the street so I hope he found what he was looking for. (6/13/08)
Real Sichuan food in Brooklyn? I was highly skeptical. Sichuan, Szechuan, however you want to spell it, the words are all but meaningless on area menus. In fact, I just pulled a take out menu for Szechuan Garden on Smith Street out of the garbage in my building's foyer to scrutinize it. "Authentic Sichuan Cuisine" is right on the front page but I don't quite believe it. Strangely, there is something called Chengdu wonton with Sichuan peppercorn vinaigrette. Huh, it reads highbrow, same for a $15.95 sauteed filet mignon with black peppercorn sauce. Sounds like a weird place, but the $6.95 lunch specials get to the heart of the matter: cashew chicken, General Tso and lo mein are neither Sichuan nor high class.
But I'm all for the ability to down a small plate of chile oil-drenched tripe a block from what I believe is the city's more tolerable Century 21. Dan dan noodles and discount shoes are a winning combination that merit investigation.
I do think Bay Ridge gets a bad rap because I'm always surprised at the variety of restaurants (and yes, creepy velvet rope/valet spots, one which had Tabitha Stevens as a special guest that night—I would link to the ad but it's not exactly safe for work) they have, at least in comparison to the mediocre Thai/red sauce Italian/French-ish bistro hegemony of South Brooklyn.
Grand Sichuan House might suffer the same fate as Banana Leaf, a long-gone creative Malaysian restaurant in the neighborhood that seemed to serve more as Chinese delivery joint. The bright yellow awning and neon screams takeout, though there are a handful of real tables and instead of glowing on backlit plastic, food photos are relegated to the menu that borrows heavily from Grand Sichuan's, the American Chinese and Hunan sections in particular. I'm not complaining; sometimes copy cats fill a welcome niche. Oh, and they serve sushi.
There was only one other customer on our Saturday night visit, a solo gent with a plate of cured pork and garlic chives. I only know what he was eating because we randomly ordered the same thing and our talkative waitress pointed out that we had the same dish. Cured pork is pretty much bacon, and nice substantial slices were tossed with sweet oniony greens that seemed more like leeks than chives.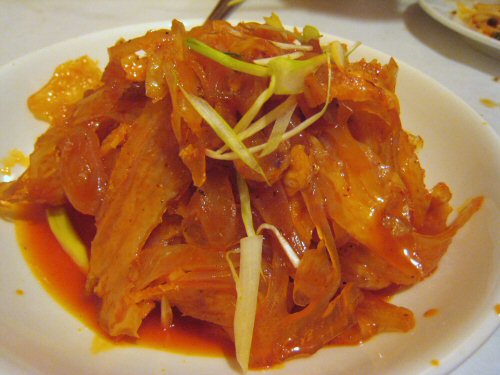 We started with beef tendons in chile oil because a cold appetizer is a must and dan dan noodles, another standard. "Have you had that before?" in regard to the noodles brought us back to Brooklyn reality. No one scares you off in Flushing where diners just have to assume the risk. I'll freely admit that both dishes were fiery beyond expectations.
Shortly after my first bite, something got caught in my tonsil and I started tearing up but couldn't let the waitress see me watery-eyed for fear they'd tone down the rest of our food and ruin for other non-Chinese who might stop by.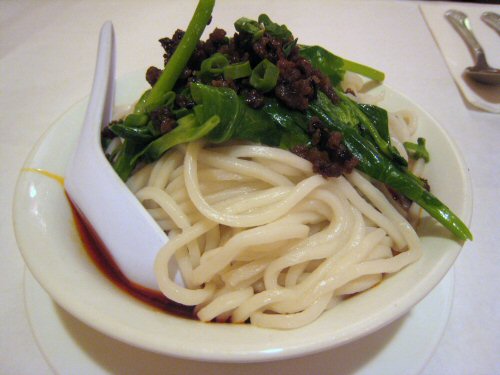 Compared to other Sichuan food I've had in China and the U.S. the chile heat was amped way up and the peppercorn tingliness was extremely subtle. They were definitely using peppercorns but the powerful almost metallic quality was absent and nearly imperceptible on first chew. This wasn't necessarily undesirable since sometimes the mouth-numbing properties can get out of control.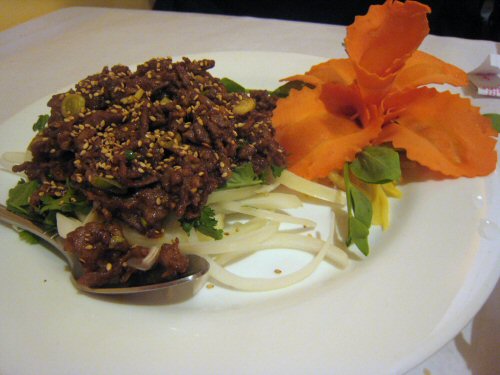 I don't know how Northern Chinese lamb and cumin worked its way into Sichuan cuisine but you frequently see something combining the two ingredients in these restaurants. This version is almost more Middle Eastern and less Chinese than I've had at Little Pepper and Spicy & Tasty. The meat is dry, chile-oil-less and served atop raw onions. Warm flatbread and yogurt-based sauce wouldn't seem out of place if it were served on the side.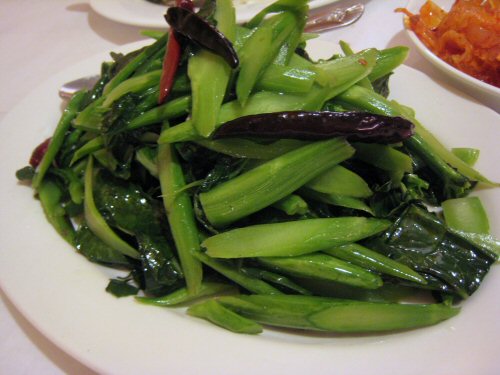 Chinese broccoli was a solid heat-taming, non-oily option. You have to have at least one neutral dish.
The delivery menu online is much abbreviated. If you're interested in Sichuan cuisine, it's worth stopping inside for a sit-down meal. (1/27/08)
Grand Sichuan House * 8701 Fifth Ave., Brooklyn, NY