Cumaná

1/2 Not all Argentinean food revolves around steak and pasta. In fact, there are quite a few regional specialties that I wish I had more time to learn about. Cumaná serves food from the northern part of the country and standouts include empanadas and hearty casseroles dubbed cazuelas for the clay vessels they're cooked in. I don't know that you'd want to eat heavy, steaming bowls meat and legumes in the middle of summer, but this was perfect for June sweater weather.
This was the only restaurant other than La Cabrera where we had to wait for a table, about 20 minutes around 1pm on a weekday. It's clearly popular, the tables are a little squished and I guess it's noisy, all par for the course here in NYC. (The dreamer/hipster guy who worked for our apartment management company and who was fixated on showing us camera phone photos of his restored Fiat and describing a fantasy wine bar he wanted to open, told us he lives right near Cumaná but doesn't go because it's too loud. He also won't visit NYC because he likes "everything to be perfect." He was totally a Williamsburg boyfriend; seemingly easygoing, slacker on the surface, and it's all a façade hiding how fussy and high-maintenance they truly are.)
We started with empanadas, and once again had the portion perception problem. I only ordered two fearing they might be gigantic. They weren't. And lots of tables had big piles being served to them on circular wooden trays.
Argentinean empanadas are baked, so it didn't feel as unhealthy as the greasy crescents you find in these parts. We split a lomo picante, chopped beef that unsurprisingly was not spicy at all, and another containing calabaza, corn and white cheese, which was sweet though not dessert sweet. They were thin and charred like mini-calzones (which was a separate menu item—I would've been curious to see the difference).
I have a decent Spanish food vocabulary though I hardly know every ingredient. I knew I wanted locro, a classic stew of corn, squash and meaty bits but I couldn't decipher every cazuela listed. I was fairly certain mondongo featured tripe, a soup I associate more with the Caribbean than South America. Who knew?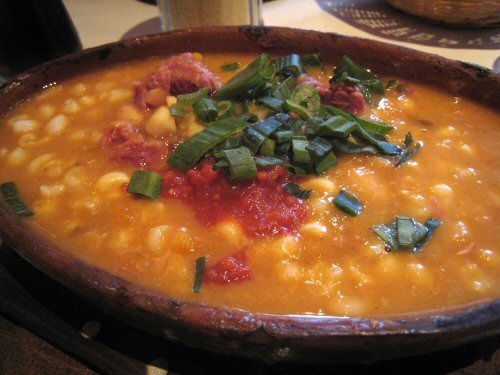 Locro seemed a bit dull on paper—I can be biased against seemingly simple food—which wasn't the truth in person. The kernels turned out to be hominy, which I love and small chunks of smoked pork permeated the stew.
James was hemming and hawing over lentejas, which he thought might be lentils but worried that it could be liver. I could think of the words for kidneys, hearts, intestines, sweetbreads, tongue and brain but was blank on liver. Hígado, as it turns out, so lentejas were beans and not offal.
We were brought grated parmesan and I'm not sure if it was intended for a particular dish or if aged cheese is appropriate for everything. This is the stuff you don't think about when eating unfamiliar food. I expect to be stymied by condiments and proper eating procedures in Asia, but it's not something I counted on happening in Argentina.
Cumaná * Rodríguez Peña 1149, Buenos Aires, Argentina