I don't know how to classify a restaurant like Bar Uriarte, which serves steaks, blood sausage and grilled pizzas, all local favorites, but French terrines and chile-spiked prawns, as well. The local online food guide Guia Olea calls this "Mediterránea" so I will take their word for it.
Supposedly, this is a sceney restaurant but on a Sunday night it was dead with just two other occupied tables and some underdressed, overtanned Brazilian tourists sitting way too close to us. Can you be bridge and tunnel if you live in South America? I don't think puente y tunnel means anything in Spanish.
I do see how this restaurant is geared towards American tastes and pocketbooks (along with Olsen, it gets mentioned a lot in US media). They serve brunch, which isn't common in Buenos Aires, and specials written on the chalkboard are in English. I don't recall if the actual menu was in English or not.
Figs stuffed with goat cheese and almonds and wrapped in prosciutto. This was a split appetizer, decadent but not overwhelming. There was a touch of honey in there, too.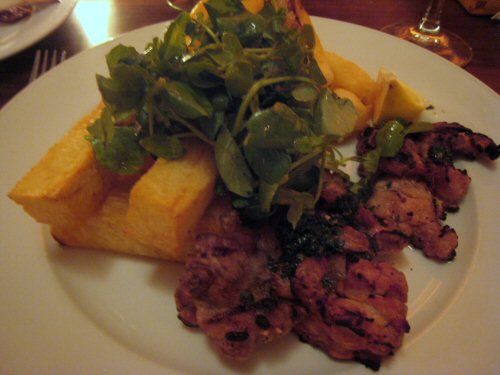 Grilled sweetbreads with onion rings, french fries and watercress salad. Who can argue with French fries and onion rings? I had to get a dose of mojellas (sweetbreads) in somehow. Organ meats are rampant in the city, not just at parrillas. I do appreciate the Argentine fondness for offal where it's low-end, upcale and everywhere inbetween.
No, you don't have to go to Buenos Aires for ricotta cheesecake. It was still a nice dessert, and the white chocolate wasn't completely typical.
Bar Uriarte * Uriarte 1572, Buenos Aires, Argentina