Frankies 457

Just yesterday I was talking with coworkers about my dislike of Italian-American food. I don't even know how we got on the topic (oh, yes I do—July is national hot dog month and well, hot dogs are one of the only things in the world I don't like to eat, along with melon and Italian-American food) but I don't want to be known as a food snob so I was trying to temper my words. I had no idea that eight hours later I would be sitting down to a plate of pasta. Eating my words, literally.
It's the heavy starch, cloying tomato sauce and glut of cheese that bothers me. Ground beef rolled into balls doesn't help matters. As long as these components remain absent, I'm fine.
My friend Jessica had just started taking Spanish classes around the corner from my apartment (I should really get a referral bonus—this is the second pal who has taken up lessons) so I had a new Friday night dining companion. The thing is that I don't eat much in my immediate neighborhood (though it would seem so based on recent write ups). I drew a blank on vegetarian-friendly venues.
I wondered if Frankies was still a pain to get into. I hadn't been back since they opened in 2004, mostly because I'm bothered by crowds. Time has passed, and it turns out that you'll still be quoted a 30-40 minute wait at 10:30 pm on a Friday. There were empty tables, too. We tried not to take it personally and enjoyed a glass of Torrontes at the backyard bar/waiting area they've set up on a driveway.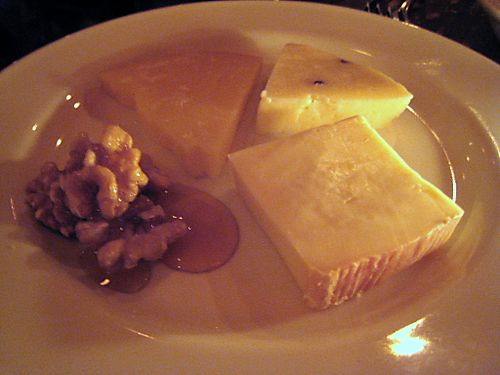 Normally, I would've picked out salumi but it's not right eating a plate a cured meat by yourself. Instead, we chose three cheeses to share: a dry Pecorino, Pepato, a semi-soft sheep's milk cheese studded with whole peppercorns and a creamy Tallegio. The walnuts and honey were a nice touch.
When I said I hated pasta that didn't necessarily mean light handmade pasta, the airy kind that almost falls apart when bitten. I was going to take half of the cavatelli and hot sausage home, but next thing I knew 75% was already gone. It's the sage butter that drew me in. I do have to say that the cavatelli kind of resembled sago worms, the kind of grub that takes some getting used to. (6/27/08)
So, I guess this is a Spuntino. At least that's what they're calling this new neighborhood Italian place for snacking and drinking wine. We had to go, as it just might be the closest restaurant walking distance to our apartment (I'm more used to Sunset Park where that honor formerly went to White Castle). On a Friday night there was a decent crowd inside the woody, warmly lit interior. Though an October chill has set in, we opted for the massive backyard dining area, strangely covered in gravel that makes walking difficult and likely havoc-wreaking on high heels. The garden is sprawling and well spaced, if you go in for that sort of thing. Too bad they're likely to get maybe one-to-two more weeks' use out of it.
The menu consists of a small sandwich selection, meats, cheeses, vegetables, things to create a custom antipasti platter. I like this kind of food, though I can always eat more than I order. The crusty, moist bread is from Sullivan St. Bakery (I've since discovered its not bread, but pizza bases). We tried two crostini, a ricotta and other cheese I can't recall and a lemon, caper and anchovy toast. We also shared a plate of cured meats, which included two choices that seemed like prosciutto and a wonderfully spicy pepperoni. I don't know what was up, but the entire back yard seemed to be drinking the $15 Coppola Syrah. Heck, we ordered it too, though there are plenty of other reasonably priced wines on the list. (10/4/04)

Frankies 457 * 457 Court St., New York, NY