La Esquina Criolla

I would never claim to be an Argentine/Argentinean (either are acceptable—I can never decide which sounds better) food connoisseur but I do indulge in a mixed grill every now and then. And always in Queens.
However, La Esquina Criolla was new to me. I knew the name but I rarely get out to Corona. Neighboring Elmhurst and Jackson Heights, all the time, but I never go that extra bit east unless I'm going to Flushing.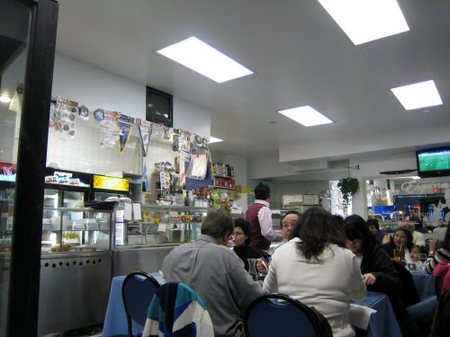 I was joining an internet stranger and his friend for what I think is a semi-regular Friday night event. If I was old(er) I would say that I met them on the computer, nay, machine. That's the thing about NYC, people who you correspond with every so often might actually live in your city, and quite possibly your neighborhood.
When I used to have print pen pals in Portland, which was considered a zine hotbed (along with Berkeley and Olympia) I rarely met up with anyone in person, and the few times I did it didn't end too well. Freaks I didn't know would find my phone number and call me from time to time, though. (Some of them were blind, manic, small town homosexuals into verbal slash fiction involving childstars…but that's for another time.)
Nothing bad happened beyond a few tough pieces of beef. Food-related internet strangers are never killers; at most they might be weird or dorky (often the case with any obsession, culinary or not) and often they're completely normal. Actually, the worst food crazed stranger might be the hipster. I know they exist, I see their posts and comments. Not that these gents (and I'm thinking of men for some reason) and I cross paths. But I have some ideas about this hard to pin down and under exposed group. I suspect that they are involved with or attend "secret" supper clubs. They possibly  cultivate their own honey, make pickles or other artisanal products in a practice space or on a Bushwick rooftop. Hmm…I'd like to say something about Asian girlfriends but I don't want to get a hater reputation. Can I say that they probably subscribe to Diner Journal and not offend anyone?
A meaty brown still life. Sure, you can stick with skirt steak or short ribs, but I like all the odd bits. Kidneys, sweetbreads, blood sausage and intestines (which always seem to be included despite not being listed on the menu) I can deal with. What I can't handle are the regular pork sausages. Just like Jimmy Dean patties, they always give me a stomachache.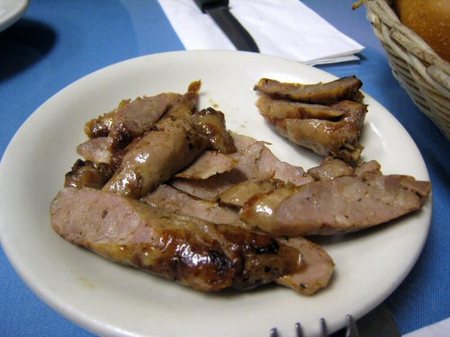 No olives, peanuts, and the like. When your freebie (at least I think this was on the house) is meat you know what you're in for. I didn't concern myself with distractions like empanadas. It's not always a good idea to delve into vegetables, pastas and salads at Argentine places anyway.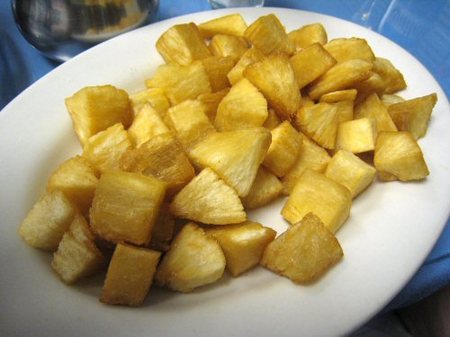 I did break my low-starch fast and shared a plate of yuca. I was pleased
that they were cut small for maximum surface crispiness. I do love this
root vegetable but only in this form–it's not as fun when it comes in a solid boiled
chunk like a wet potato.
Everything can be improved with chimichurri. I realize it's not difficult to make (garlic, parsley, vinegar and olive oil) but I picked up a bottled version last year and it just wasn't the same.
Combo #4 is solid: skirt steak, short rib and sausage.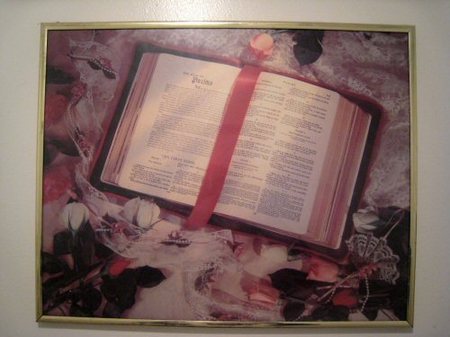 The lord was my shepherd even in the bathroom. I don't know that framed bible photos in the lavatory are exactly an Argentinean trademark.
Later that night, I discovered that intestines are a great low carb snack. I mean, once you get over the trauma of nibbling on a digestive tract. More so than kidneys which are super concentrated and organy, sweetbreads, which are kind of fluffy and sometimes bitter. Intestines are satisfyingly chewy, crispy if charred right, and just a little fatty. I've never gotten into popcorn (though I do like caramel corn), it's just salty and boring,  but a little carton of innards would be the perfect accompaniment to a movie.
La Esquina Criolla * 94-67 Corona Ave., Corona, NY