beerbistro

Deciding last minute to head to Toronto for New Year's Eve didn't leave me with many dining options the night of the big event. Anything creative or talked about was already booked. Enough desperation set in that I was even willing to overpay as is practically mandated by holiday set menus.
Toronto's big citiest aspect was restaurant pricing, which seemed more European in its painfully large numbers and with no favorable exchange rate to buffer the effect. I've heard people say that food is cheap in America, hence our horrible fatness but I do think our higher end restaurants provide relative value. Entrees that might be in the $30 range in NYC, swell into the $40s in Toronto. I just couldn't buy into that.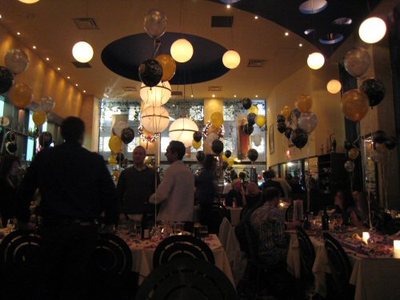 I scoured Open Table for the least offensive option and came up with beerbistro, which sold me primarily on its location one block from our hotel. I'm no oenophile, but I did wonder if there was something inherently fratty about a menu paired with beer. On the other hand, I'm not a beer afficionado either so I won't even attempt speaking to the food and beverage matches.
Well, at least it was something different, and the food was better and crowd hipper (well, minus the suave Ralph Lauren-ish guy who kept eyeballing me causing me wonder why the interest until I saw his date, a pretty blonde who happened to be rather big and tall, plus-size modelish. Great, I vow to lay off the pork belly in 2008) than I'd anticipated.
Duxelles in puff pasty and smoked salmon on blini and oyster were kind of like wedding appetizers from a non-bad caterer. Paired with DeKoninck.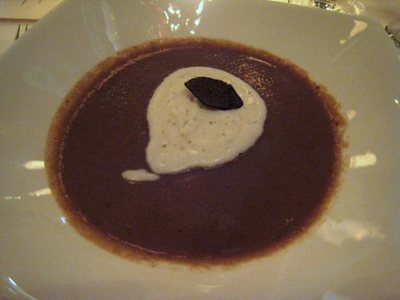 Wild mushroom soup with X.O and black truffle cream. I never order soup anywhere. I would've chosen the foie gras and pate option but I'd already indulged in cretons that afternoon. Initially, I was swayed by the truffly odor wafting from the bowl at our neighbor's table. Paired with Innis & Gunn Limited Edition '06.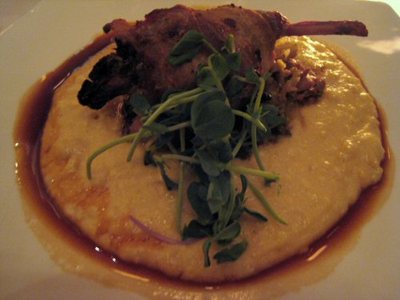 Berkshire bacon wrapped partridge stuffed with B.C. chanterelles, braised pork belly, savoy cabbage polenta and nut brown jus. The mains were all fairly hearty. I was tempted by the beef tenderloin that James ultimately ordered because the mashed potatoes contained cambozola, one of my soft blue cheese obsessions, but bacon won out.
The partridge was just the type of thing I enjoy, rich on top of richness. Austere food has its place but not on a holiday. I could've sworn the polenta contained cheese, though. Paired with Christoffel Blond.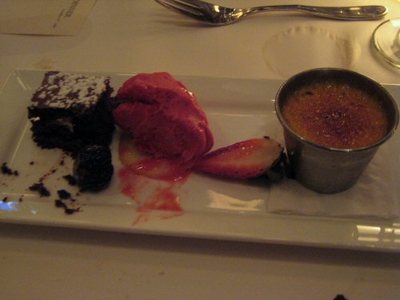 Desserts were desserts. Raspberry sorbet and chocolate cake were as might be expected. The crème brûlée appeared to be spiked with alcohol of some sort, not beer, thank goodness. The sweet trio got ignored by many since midnight was creeping up and everyone was getting their confetti shooters ready. Paired with Rochefort.
The biggest question I'm left with is how to categorize cuisine in Toronto. Bistro implies French, but this wasn't heavily so. In the U.S. most food that isn't distinctly any nationality can roughly be classified as American. But Canadian? I can't help but think of caribou, nuts and berries. What is Canadian food, anyway?
beerbistro * 18 King St., Toronto, Canada