I can't believe I forgot to mention "The Jug" (I don't know that anyone actually calls it that but it sounds like a good stoner nickname) a.k.a. Toronto's Kom Jug Yuen. I originally intended to try dim sum, perhaps at Lai Wah Heen, something a little higher end, but as it turned out I was invited to dim sum twice in January, a very strange thing since I'd only been asked to dim sum once in the entire five years prior.
I didn't want to o.d. on yum cha, and by the time we settled into our weird pseudo-zen-like hotel (there were self-published looking new age guides instead of bibles in the drawers, cds of supposedly relaxing music and a choice of incense to permeate your room each day) that I only picked because it was centrally located minus outrageous prices or floral bedspreads and had a full kitchen, we were dead from waking up at 5am (I usually get up at 8:30am on weekdays, which might be late by most employed people's standards).
I just wanted something simple, possibly soupy, like the New York Noodletown of Toronto. That was totally Kom Jug Yuen, except that I don't think strangers were seated together at the same table—I told you Canadians are sensitive about their personal space.
I always order roast pork noodle soup at Noodletown, so I did the same here. That would've been plenty but the glossy, unnaturally red, roast meats being brought out in plastic tubs and hacked up at the front counter couldn't be ignored either.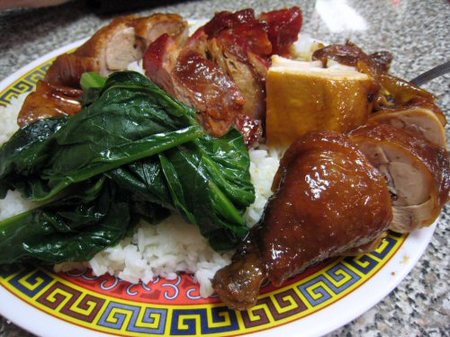 Choosing just one meat was impossible. Chicken, duck pork over rice was the only way. At least we had that kitchen with a usable refrigerator for leftovers (the last time we were in Canada, our frozen horsemeat unthawed in the minibar, drenching everything with blood and we got charged for every bottle and can we temporarily removed to scrub).
I'm not sure if it was the bone chilling weather, that I was starving by 4pm after throwing up the only thing I'd eaten all day, a LaGuardia donut ,or if the soup was really amazing. I like to believe that the rich broth transcended mere cold and hunger. 
Kom Jug Yuen * 371 Spadina Ave., Toronto, Canada