1/2  Whampoa Club was the only restaurant I made reservations for before leaving NYC, and cornily enough, I started having reservations of my own once in China. I got nervous because outside of glossy travel and food magazines, opinions were completely mixed. I couldn't find one kind word about the place on Chowhound. But then, Chowhound is always a little out of whack for high end restaurants and cities outside of New York.
Our meal was scheduled for our last night in the country so I hemmed and hawed over canceling all week-and-a-half. Did I really want to blow $250 on something lackluster?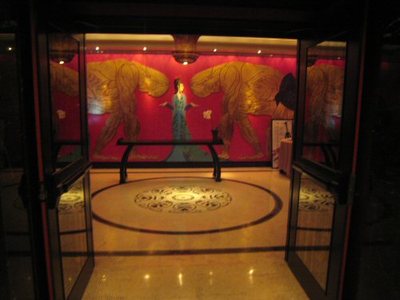 I did want to try high end Shanghainese food since it's not like I'm often faced with opportunity. The reason I've postponed this recollection until now is not so much because it was my last meal but because it's difficult to characterize. The experience was almost more about feeling than taste, which sometimes works.
Whampoa Club is located in an upscale complex, Three on the Bund, which also houses Jean Georges, Laris, Armani's China flagship and New Heights, a restaurant that is more remarkable for its amazing view. We had drinks on the heated terrace overlooking the Pudong skyline beforehand. And no matter how many photos I took, they all turned out like shit because I can't seem to master night time lighting. We kept trying to capture shots of this slow moving Goodyear blimp (growing up, my dad worked for the company so I have weird nostalgia for all their logo'd paraphernalia) and it was a blurry disaster.
I honestly don't know what is so awe inspiring about a view and why looking over a city from above is supposed to romantic. I sort of feel the same way about candles. I don't fully buy into it, but there are worse ways to spend time on a vacation. The night before, we'd sipped pricy drinks at the Pudong Grand Hyatt for the privilege of gazing across the river the other way.
I've barely touched a cigarette since being back home but certain settings just cry out for smoking, health be damned. And those settings usually involve drinking. It's so leisurely and decadent to smoke during an expensive meal. It certainly felt that way in Spain last summer, though I doubt that will last much longer—even France will be banning smoking in public spaces in three days. And the opulent, modern art deco style of Whampoa was made for cigarettes. In fact, they even had little built in ashtrays in every stall of the plushest bathroom I encountered in all of China (I took a photo but it didn't do any justice—amusingly, I'm not the only one impressed by the restrooms, this person even took shots of the faucet and toiletries).
I was told we'd have a window seat when I booked, so clearly it's a selling point. Halfway through our meal, fireworks started going off right behind my head. I couldn't tell you why, maybe simply because it was Friday. Maybe they do it every night because that's just how they roll in Shanghai. But two middle aged Chinese men in Member's Only jackets jumped up and started crowding next to our table to take photos of the spectacle (they did say excuse me and really I don't mind if someone wants to tourist it up and take photos out of the window of a nice restaurant in another country—it's only in NYC where I'm sensitive to gaucheness).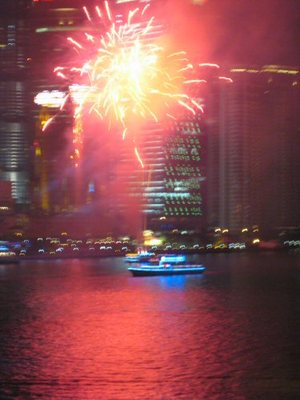 By contrast, the table next to us was occupied by rich kid teens (for all know, they were 40—I very much envy the genetic fountain of youth thing that Asians seem to have. Even James who's only fraction Asian, is two years older than I am and smokes regularly, doesn't have a single line on his face which is ridiculous) a Chinese Christina Ricci with two pop star looking guys chain smoking and barely eating. I couldn't say who typical clientele might be.
Thinking back, we probably should've ordered Shanghainese food a la carte but whenever presented with multiple menus in an unfamiliar yet notable restaurant, I often go for the tasting menu. We did skip the pricy hairy crab set meal, though. We decided to try a Beijing promotional menu. Why not? We'd already messed cities up by eating soup dumplings in Beijing.
I hate to admit that I can barely remember a thing about the food (it's nearly been two months), which isn't to say that it wasn't memorable. The presentations and ingredients were a bit complicated and the verbal descriptions got a little lost in translation. English as a second (or third) language can be a killer for food explanations. The only reason I remember as much as I do is because I took a photo of the menu. None of the dishes were so compelling that I'd crave a repeat performance, but cocktails and a handful of updated Shanghai classics would be worth a second visit.
Wine served with starters: Watershed Margaret River Sauvignon Semillon 2005

Duo of cabbage and spinach rolls with shrimp and scallop, flavored with yellow mustard and wasabi jelly/Air-dried pork with sweet vinegar dressing
Chinese really seem to be into porky aspic preparations. We had a similar jellied pork knuckle at Made in China. I find the flavor almost too flat and pristine. Strangely, the pungent mustard with spinach was also similar to a vegetable at Made in China. Maybe these really are Beijing flavors.
Wine with mains: Casillero del Diablo Merlot 2005

Imperial-style golden seafood soup
By far the most decadent item. The saline, gelatinous soup was completely teeming with the foie gras and truffles of the Chinese world: abalone and shark's fin. Oh, and lobster and scallops too. I think I'm supposed to feel bad for eating fins but of course I was curious how they'd taste. Like tendons and other transparent chewy things, I suspect texture is the main attraction. Red vinegar was served with this dish and the sharpness made total sense with almost-too-rich quality of the broth.

Imperial-style fried lamb with sweet bean paste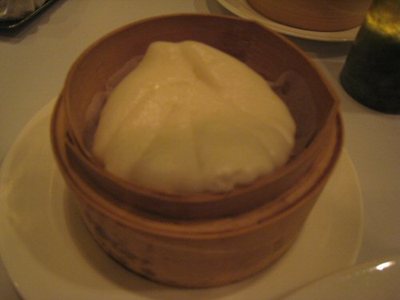 I wasn't expecting the spun sugar dome. In fact, I was imagining something more rustic and spicy rather than sweet. This was "ta shi mi," sweet as honey, the menu says. True. I love sweet meat and could've stood for a few more pieces. I liked the fluffy steamed pancake served alongside, so you could make fancy little handheld buns.

Beijing-style slow cooked cabbage in chicken consommé and sun dried scallops
Hmm, more cabbage. I wasn't very excited about this because it was too subtle , i.e. healthy-seeming, for me.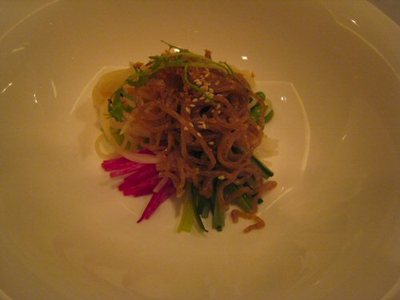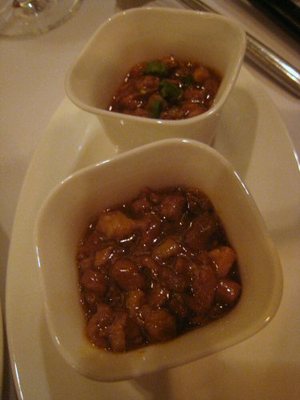 Beijing-style fermented bean paste and pork with hand made noodles
"I just spent over $200 on ramen and frozen vegetable medley?" we joked about this one. I think I'm going crazy because I swear there were carrots and corn in this dish that looked like they were from a bag of Birdseye, but I'm seeing nothing of the sort in this photo. I liked the diy aesthetic of tossing in as much pork mélange as suited you.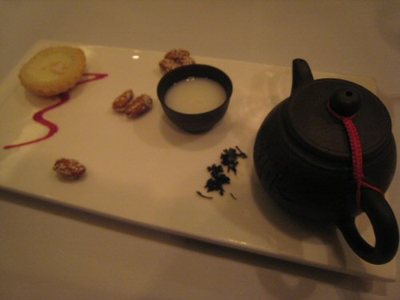 Almond dessert trio.
The tart and candied nuts were nice; not too Western and decadent and not too Asian and unsugary. The sweet almond tea was seriously like loaves and fishes, an everlasting trick. No matter how much you poured in your tiny cup, there appeared to be more left. Or maybe I was really tipsy by this point in the evening.
Whampoa Club * 3 Zhongshan Dong Yi Lu, Shanghai, China