Skyway Malaysian

1/2  Assessing a restaurant based on two take out dishes is never wise. So I won't. My foray to Skyway Malaysian was kind of peripheral anyway. I wanted to make something non-labor-intensive for Christmas Eve dinner, but still interesting and most likely S.E. Asian. This meant no complex spice and herb pastes because I don't have the energy for pounding or foraging for obscurities.
I initially researched devil curry recipes before it dawned on me that I just made that Eurasian holiday meal two years ago. Duh. Even if no one else reads this site, it at least serves as a great memory-prodder for me. I don't think Alzheimer's runs in my family (though that's hard to determine since no one makes it past 60) but keeping track of life's minutiae might prove become practical in a decade or so.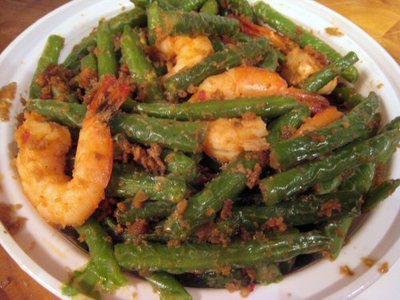 As it turned out the only ingredient I needed for my roast chicken was kecap manis, oh, and the chicken, which still precipitated a four-subway-stop trip to Chinatown. I'm all about efficiency so decided to pick up a vegetable side dish at Skyway, just a block from Hong Kong Supermarket at the F station. Shrimp and green beans seemed right with chicken. I had to stop myself from ordering the curry fish head casserole because that would be overkill.
I couldn't resist getting prawn mee to go, though. It could be a late lunch (I didn't end up eating it until 7pm so now my dining schedule is screwed up). I hate dining in restaurants alone or else I would've just eaten the soup on the spot. Luckily, they do package the broth separately from the noodles, shrimp, kangkong and hard boiled egg, so sogginess is averted.
I was imaging a more coconut milk-based, Singapore laksa-like soup but this was a deep, spicy, very shrimpy broth. I could just eat a big bowl of the liquid but the chiles might make me cough if I slurped too fast. My only criticism is that it was a little too salty. But I'm very sensitive to salt, so it might be spot on for an average palate. I'm not sure why the broth looks frothy after I combined the two plastic tubs.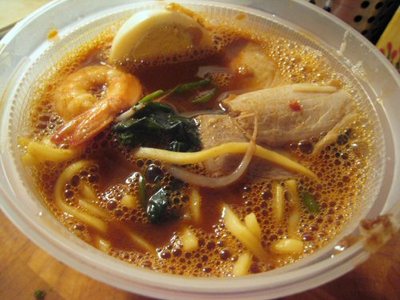 All I can say is thank god that I'm stuck here for the holidays. The sidewalk in front of Skyway happens to be one of those cheap Chinatown bus's stops, and there was a massive luggage-toting crowd filling the entire stretch of Allen Street and blocking the door to the restaurant. It looked like a fun bunch of people: pushy non-lining-up Chinese and African Americans mocking the way the driver was saying Richmond. Ok, it did sound like he was yelling, "Reecheemon" but everyone knows you're supposed to make fun of others quietly. Uh, or on your blog.
I was thinking the subway wouldn't be crowded even though it was rush hour because the city had thinned out for Christmas, but no luck. I still had to stand with all my bags and the seated woman I was hovering near began covering her nose. "Oh shit, my shrimp paste." I'd also bought a baggie of dried shrimp at the grocery store, which couldn't be helping matters. I felt nervous for a second, then I was like, "Fuck you and this whole subway car. Oh, and seasons greetings." I'm annoyed on a daily basis by my fellow riders, so grossing out strangers for fifteen minutes on Christmas Eve was the least of my concerns. In fact, I kind of enjoyed it.
Thank you, Skyway for empowering me to shed my usual self-consciousness. I should stink up subway cars more often—a lofty goal for 2008.
Skyway Malaysian * 11 Allen St., New York, NY