Artisanal

The first and last time I visited Artisanal was Valentine's Day 2001. There's no particular reason why it took me nearly six years to return; it's just that it never occurred to me until last week when fondue seemed in order.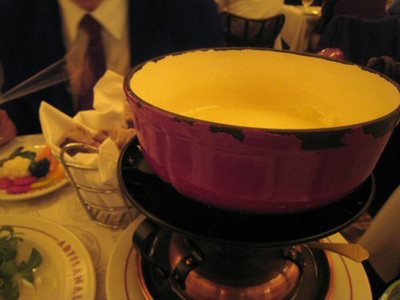 The melted cheese with crudites and air-dried beef was perfectly acceptable but I wasn't bowled over either. I do enjoy letting the thin coating of cheese on the bottom of the dish char into a frico disk.
Duck rillettes (they spell it with one L but that looks weird), on the other hand, were very satisfying and generously portioned. You can't let the layer of fat scare you. The fondue felt a bit skimpy, but maybe I'm just a cheese pig.
My goal was really to binge on cheese. We stayed away from bistro entrees and ordered a cheese and charcuterie plate, which made me want to forget proper dinners forever and just eat cheese, fruit and nuts every night. This was the best decision ever because one of the four cheeses presented to us, Cato Corner Farm Hooligan, made me insane (in a good way).
The next day I was obsessing at work over whether I'd have time at lunch to get to Murray's and back. I'm still thinking about it. Unfortunately, I don't think anyone carries it in Brooklyn except at the Grand Army Plaza Greenmarket, which does me no good since it's Sunday.
This Hooligan is seriously awesome and I don't use that word willy-nilly. The oozy cheese is one of those classically smelly washed rind beasts that divide people. At a recent holiday party the hostess had to put the cheese plate in the fridge because people (well, her ex-boyfriend that she still lives with) were complaining about the stench. I was like bring that shit back out.
Left to right, the cheeses are Constant Bliss, Berkswell, Hooligan and Valdeon. (12/23/07)
Not to look a gift horse in the mouth, but I was pleasantly relieved by this year's Valentine dining surprise. Last year I got Plataforma Churascaria, and for my birthday, Peter Luger. I like meat as much as the next guy, but sometimes I feel like a lady.
I've been on a fondue kick lately, so the house version hit the spot. My main included a venison au poivre accompanied by a fluffy, custardy, rich puff which I can't for the life of me recall the exact contents of, even after asking the waiter. Sometimes I scare myself with my bad memory. We shared profiteroles with pistachio ice cream for dessert. I suppose we should've had a cheese course, as it is their thing, but I was just too full for all that fromage.
It always seems that I get seated near the obnoxious couple in any given situation. The tables are bistro-style close, and I could've done without the attention-grabbing, overly demonstrative bisexuals (male and female) six inches from me. "Girls don't want to fuck me," lamented the male half of the duo. Damn right. (2/14/01)
Artisanal * 2 Park Ave., New York, NY