I'd Rather Eat Molten Lava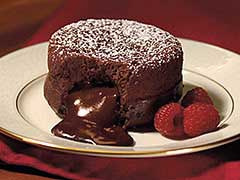 No, I never talk Top Chef. I hardly talk TV at all, lest you think I watch hours and hours a night (I turn it on at 7pm and it doesn't usually get turned off until 1am, I'm not really ashamed). But it's the finale and all I cared was that the too-young-to-be-so-'90s, poor man's Jennifer Aniston didn't walk away a winner.
But first, I couldn't get past everyone calling foie gras "foie." Gross, how hard is it to say the extra syllable?
Then, I nearly lost my shit when Hung (my favorite because he's so unabashedly un-nice, yet proficient) went molten cake for his wild card. I hated how last episode it was all about who cooks with soul and how Hung isn't in his food (like an Asian must fish sauce, tamarind and coconut it all up to get respect—which is exactly what he did to win). But after I saw those chocolate cakes coming out of the ring molds, I understood the true meaning of soullessness. So, so wrong, and so straightforward. I'm surprised he didn't continue on the proving myself to be warm and cuddly through my heritage route by spiking the dessert with five-spice powder, ginger, pandan or something seemingly exotic.
No matter, it's quite a feat for a chef to pull off a victory in spite of such a lame dessert. But seriously, chocolate molten cake?
Photo from Kraft, which tells you all you need to know about chocolate molten cakes.