Michy's

At least one "nice" dinner should be squeezed into a vacation, even if it's just an extended weekend jaunt. But where in Miami? No offense to savvy residents but message boards weren't much help. I couldn't trust the posters' judgment and knew I was in trouble when I glanced at the top five most booked restaurants on Open Table and three were Seasons 52, a Darden chain (Red Lobster, Olive Garden, et al.), a fact strategically absent from their website. Sure, I love me some chains but this wasn't what I'd had in mind.
Not good, and I wasn't about to touch a flashy clone like Nobu or Table 8 either. In fact, I wasn't gung ho on South Beach at all. We never set foot or tire within the area, at least not that I was aware of. I did look at the ocean and walked in sand for maybe 60 seconds near a mini South American enclave, though.
I eventually settled on Michy's, a restaurant I hadn't initially considered because of the celebrity chef. But then I had to remind myself of how stupid that was considering that Michelle Bernstein hasn't been on Food Network in a million years and her guest judge appearance on season two's Top Chef hardly tarnished her image. Melting Pot was from a different era. Michelle Bernstein wouldn't pose covered in tomato sauce or demonstrate her Latina-ness by becoming the Colombian Rachael Ray.
I think the restaurant is in what they call the design district, but it just looked like a commercial strip with lots of low rent motels advertising HBO and waterbeds like you find in downtown Las Vegas. The young, bossy M.B.A. seated next to us (I'm always seated next to an M.B.A., it seems) described the area as "gritty" to his date that he was only mildly impressing. Maybe it had something to do with his telling her what she was going to eat and insisting on doing all the ordering. I'd describe the décor more beyond being cheerily stylish and cozy but apparently they're closing and remodeling in the middle of this month. It could be wildly different in October. Even though the restaurant was hardly a scene, it was packed and there were plenty of dresses barely covering ass cheeks and skin tanned to shades of wet clay.
Earlier, James had been grilling me about what kind of food Michy's served and I couldn't answer. It's not like anything, no one ethnicity or style. New American? Small Plates? That tells you nothing other than the aesthetic. I'd hate to label the cuisine as comfort food, though that's close; it's the kind of food that's good to eat, uh, ok? Rich and decadent…or maybe that's just how I ordered.
Portions are available in full and halves and since we still had moros, yucca and lechon yet to be digested, we ordered four half sizes. Plus a shared dessert, it was right on. We, which is to say I, also chose a bottle of Albariño, which seemed to garner a strong approval from our waitress. But it also wrongly pegged James as knowing something about wine so he did the tasting and all of that and when I ordered an after dinner glass of Moscato d'Asti I was informed that it was sparkling like I was a know nothing. Ahem.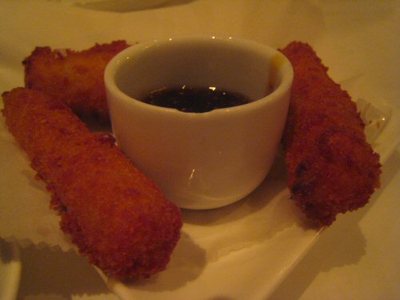 Blue cheese and jamon croquetas with fig marmalade. For some reason I thought these contained smoked duck, but that is not so according to MenuPages (restaurants with no websites stymie me). I'm relieved because I couldn't taste any duck. The ham was just a hint. Really, these were like awesome, sophisticated mozzarella sticks. Fig jam blows marinara away for its dipping properties.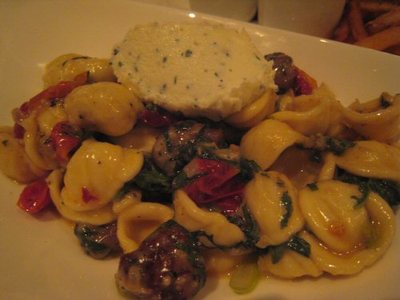 Orecchiette with duck sausage and herbed ricotta. This isn't listed online so I could be off. I never order pasta at restaurants because it seems like a boring carby waste but this was reasonably sized and it's kind of hard to resist game sausage.
Steak frite, a.k.a. churrasco with fries and béarnaise and au poivre dipping sauces. Yes, fries and béarnaise, not to mention steak, are heavy as heck. But all three were nearly rendered cute in this abbreviated form. A few slices of beef and a handful of fries never killed anyone. The béarnaise was much preferred over the au poivre.
Yellowtail with bok choy and shiitake broth. We stepped out of the fatty, creamy theme with this one. I think the bok choy was the only substantial vegetable we ate during this meal. The tuna was flaky and as delicate as it looked.
I wasn't about to try the warn a.k.a. molten chocolate cake and didn't want to do the bread pudding even though it seemed like their signature. The cuatro leches caught my attention because four is better than three, right? If I'm correct, dulce de leche is the extra dairy component. And coupled with baked Alaska? It was a must. The meringue was described as soft, which I didn't understand until I poked it. The edges were all toasted golden but the mushroom-like mound was pliable, not chalky like those fat free meringue cookies you find at Trader Joe's. The light egg white blob went well with the caramelly cake and pool of fruit-studded sauce. My bubbly Italian wine wasn't so bad with it either.
Michy's * 6927 Biscayne Blvd. Miami, FL