Are you as sick of hearing about Miami (and bbq) as I am? No worries, this is the last food-related recap of my Labor Day mini-trip. I can't say when the NYC barbecue mania will die down, however. I'm behind the times anyway–I still haven't been to Fette Sau, I can't even think about Hill Country yet.
As I'm certain I've made clear before, I'm no barbecue know-it-all. Not even close. (I can't even recall the logic that brought us to Shorty's. For our last meal I said, "no Cuban" because I really wanted Asian, any country, but nothing seemed very promising from that continent.) Sure, I can determine if the meat is too fatty, dry or flavorless but I can't speak to regional styles and adherence to authenticity. In fact, I have no idea what Florida-style barbecue is exactly.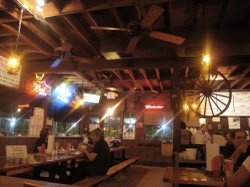 Shorty's appeared to do a little of everything, ribs dominated the menu but they also served pulled pork, chicken and beef brisket. The ribs were dry-rubbed and two sauces were available along the wooden communal tables. One, in a shaker bottle more typically used for pizzeria chile flakes, was smoky. Another in a squeeze bottle was kind of spicy. It made sense to tinker with both.
Uncharacteristically, I went Texan and chose the brisket instead of anything made of pork and was thrilled by what my $8.95 got me. The portion was more substantial than the photo shows. You can't even get mediocre (yet strangely likeable) bargain Dallas BBQ entrees for that price. It's really about the meat. The crinkle cut fries were ok, garlic bread nothing special, well, the coleslaw was actually edible.
It felt negligent to visit Florida and never try key lime pie, so we shared a slice. Once again showing my lack of refined palate, I couldn't tell you if the tart dessert was truly made with the tiny local variety or with ordinary limes. It seems that I'm not the only one who can't differentiate (there's something unnerving about the Food & Wine blog not allowing comments—not that I ever partake in online conversations).
All meal long I was wondering what might be in the windowed metal heat lamp box at the front counter. Crispy Critters was emblazoned across its top. Something creepy and deep fried like rocky mountain oysters or perhaps frog legs? Nah, just little chocolate chip cookie nubs, as it turned out. Chocolate chips are not critters.
One of my favorite finds in Miami involved no food at all, just two gin and tonics up the highway from Shorty's at Fox's Sherron Inn. I love dark, burgundy vinyl booth, mid-century cocktail lounges. Real hold outs, not contrived Swingers era bars that were popular last decade, or total dumpy dives where old men dominate or faux modern speakeasies. Just an unassuming place where regular folks commingle with a younger crowd. Oldies play, not indie rock. And they serve food food like steak and chops.
Maybe it's a west coast genre, it feels kind of Vegas or L.A. Portland still had a few left during my day. I can't think of a single place that fits the profile in NYC. The only problem is that these joints should be filled with smoke and like many a state in the U.S., cigarettes are no longer allowed indoors in Florida. Lately, I try to keep my smoking to a minimum, maybe three cigarettes a week, if that, but a cocktail cries out for an unhealthy accompaniment.
Shorty's BBQ * 9200 S. Dixie Hwy., Miami, FL
Fox's Sherron Inn * 6030 S. Dixie Hwy., Miami, FL