There Must be Sadder Pastimes Than Grocery Shopping, Right?
I've never been able to wrap my head around farmers market fanaticism (though I did pay a brief visit to Grand Army Plaza's on Saturday and picked up some tomatoes and opal basil). I get my entertainment from wide-aisled, fluorescent-lit mega markets. The Western Beef H.Q. will always be my favorite mainstream grocery store but Stop & Shop wows in other ways.
We really only go when we need to return bottles (though it's often fruitless since I figured out they don't take brands they don't sell, so all our Trader Joe's and various microbrew brands were rejected). I made a whopping 95 cents from plastic Vintage Seltzer. If anyone knows of any self-serve bottle returns in South Brooklyn, please do tell.
The two bright spots are the baked goods and metal shelves teeming with discontinued items. They used to hide the marked down rejects in the back near the bathrooms but it has been moved so it's the first thing you see upon entering. You don't often see price-slashed cast offs in NYC, probably because there isn't enough room.
I picked up a can of oil-packed Genova Tonno (which I just discovered is owned by Chicken of the Sea) which isn't half-bad tossed with white beans, red onions and arugula. But it was the Trivial Pursuit Pop Tarts that took top prize from the shelf of misfit food. I genuinely like Pop Tarts so I'm still debating whether I should eat them or save them along with my other just-for-looks snacks like Strawberry Fluff and KC Masterpiece ranch-flavored bbq sauce that I hoard on an Ikea Ivar shelf downstairs.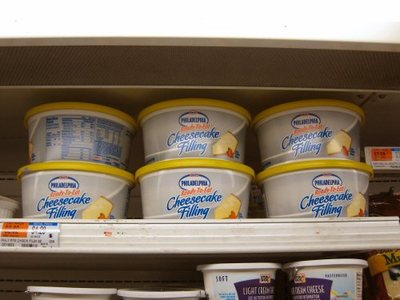 Ready to eat cheesecake filling was new to me. I thought those no-bake Jello "cheesecake" mixes were instant enough. There's something about this plastic tub that implies the filling will never make its way into a crust and more likely alternate between spoon and mouth.
I couldn't believe Stop & Shop didn't have Lofthouse cookies, that's their one reliable item. But single serve carrot cake and 7UP crème cake (we bought both) made up for the lack of soft cookes.
Do they still have Little Buckets at KFC? Ok, yes they do (I love answering my own question). S&S makes Boston cream, strawberry shortcake and said carrot cake in short stubby plastic containers that remind me of a fast food dessert.
A cheap jumble of raisin and nut studded cake, whipped cream and piped cream cheese frosting. For only $1.99, I got three snack occasions out of this.