8th Ave. Seafood

1/2 It's a shame that I don't get to Sunset Park as much as I used to. I'll admit that I find Flushing more exciting–Sichuan, Taiwanese and Xinjiang food do more for me than Cantonese or Fujian. Fortunately, an invitation from a few Chowhounds, one with a blog (heavens no, not Restaurant Girl), to try a new (to me) restaurant, 8th Avenue Seafood was the perfect excuse to do a little Brooklyn exploration.
The benefit of group dining is that you can sample more things than usual (I rarely dine with more than one other, perhaps I should sharpen my social skills). Not that I don't typically order for six anyway (that's what takeout containers were invented for).

I think of sable as being a deli fish, but it was served in a thick peppery sauce on a sizzling platter here. I liked the oily, heavy and sweetish flavors.

Rich food requires vegetables for balance. We chose two. This is yin choi in "soup."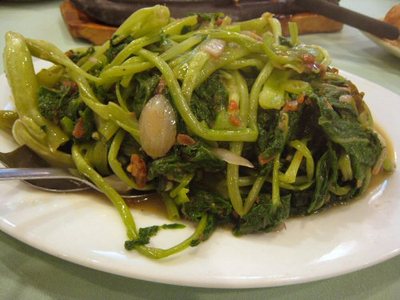 And ong choi prepared kind of Malaysian. I'm pretty sure ong choi is water spinach, a popular Malaysian green, so that makes sense. I think there was chile and dried shrimp in this.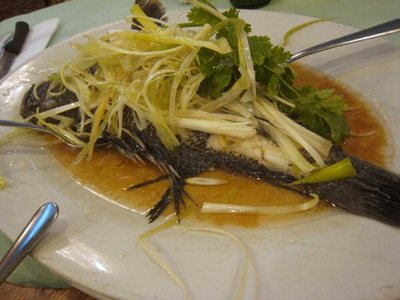 A lighter fish was the whole sea bass, simply steamed with scallions and ginger.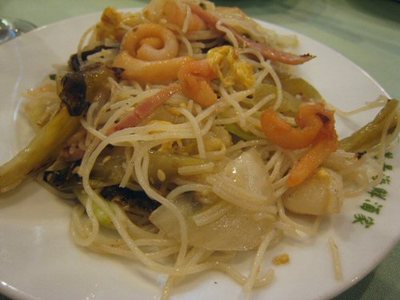 I really liked the teeming with odds and ends mei fun. I loved the bits of sweet, pickled cabbage in noodles.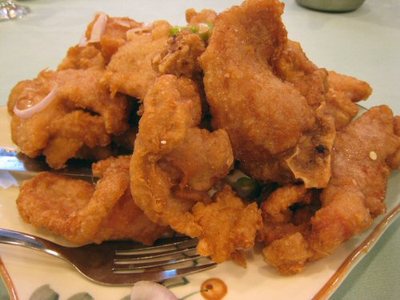 I was imagining a red chile sauce, more paste-like but then remembered that this is Cantonese food. Salt-baked and chiles often mean lightly breaded and scattered with sliced jalapeños. I love the soft shell crabs this way at New York Noodletown but on pork chops it was kind of dull.

Our complimentary treat turned to out to be not so treat-like when I realized the pale green gelatinous fish was melon flavored. Egads, it's one of my two dreaded M's (melon and malta). I did eat four or five bites, just to be polite. It was cute, though.
I'm curious to try dim sum at 8th Avenue Seafood because I suspect it's not as overrun and chaotic as the better known places. I will admit that if there's one thing I do love about Cantonese food, it's the dim sum.
8th Avenue Seafood * 4418 8th Ave., Brooklyn, NY