Surf Bar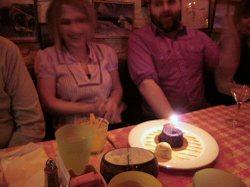 Surf Bar is a nearly neutral restaurant with nothing breathtaking or offensive to set it apart in my mind. Sure, there's sand on the floor and more tchotchkes than an Applebee's, plus the owner once threw down with Bobby Flay. No complaints or raves, I was merely there for a friend's birthday, which I suppose was an improvement over last year's Lazy Catfish strangeness. Molten cakes don't scream happy birthday to me, but it wasn't my celebration. I didn't even have a birthday party last year, which is probably why I'm so bitter now.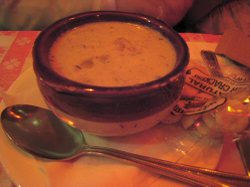 I shared some clam strips, battered fried conch, had sip of clam chowder and ordered the lobster roll with fries for myself. Don't tell anyone, but I've never had one of these iconic sandwiches so I can't even weigh how it stacks up against the real deal. I don't hang out at Pearl Oyster Bar or Mary's Fish Camp, it's not my thing. Minus a brief, long ago two-days in Boston, I've never set foot in New England. I don't know the first thing about clam shacks and I've always been so turned off by the old-timey weather term n'or easter that it's clouded my open-mindedness towards the region. Plus, I imagine the area being inhabited by a bunch of bespectacled, bow-tied Christopher Kimballs (yes,I know I just mentioned him the other day, but America's Test Kitchen seems to always be on).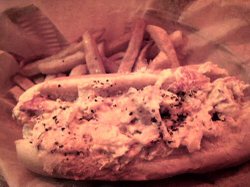 My lobster roll seemed correct, a simple to the point hot dog bun (not sure if it was buttered) stuffed with mayonnaise dressed chunks of lobster meat. There wasn't any distracting celery tossed in. I liked it and didn't think it was wildly priced at $14, though I swear I heard someone at the table complaining about the menu being expensive.
Then came the bar progression, who's meeting up where and so on. I know I'm an out of touch cell phone-less crank but I still don't understand the intermittent calling and texting that occurs when hanging out with large groups. Like you're already with people, not to be all touchy-feelie, but why not live in the moment and enjoy where you are and who you are with rather than coordinating a nebulous near future. Ew, enough of that talk.
First, we went to weirdo nearly suburban, quiet-for-a-Saturday Hope Lounge. I've always used Nu Shooz to sum up what's wrong with the youth of today, Williamsburg in particular, and like clockwork the DJ whipped out my favorite tune. Really. I've always thought if you're going to embrace the silly poppy funky '80s, you may as well go whole hog with the decade and delve into ickiness like Mike and the Mechanics or Traveling Wilburys. (If you haven't noticed, I've capitulated and now completely see the beauty of YouTube but Twitter I'm totally not getting. Why the hell would anyone care about what anyone else is doing capsulated in 140 characters or less? This is worse than Nu Shooz.)
Next was Larry Lawrence, where despite playing music from the here and now (Clap Your Hands Say Yeah, of course) was a jam-packed nightmare (though not completely fruitless because I found a treat out front, which I'll get to in a minute). I ended up across the street at creatively named The Pub, an even weirder, emptier out-of-place bar than the first one, but when you're drunk enough that playing with a gag gift plunger and watching an extended infomercial for the Sonic Blade on a big screen is a total blast, the surroundings cease mattering.
To some degree, that is. Even when I'm having fun I can only block out so much of the world around me. And I discovered this new level of wrongness seconds after stepping into Savalas. The sweet strains of "I've Got My Mind Set On You" blasted my ears. My eyes almost started bleeding watching kids bopping around to that atrocity (most definitely more disturbing than having a Say Anything poster in your dorm room in 2001  click on 7). That ubiquitous song and video didn't please me when I was fifteen, and it hasn't gotten better with age. It was my signal that I needed to call it a night.
Fried seafood plus seven drinks (over a span of five and a half hours in case you're concerned about my health) plus George Harrison might look something like this:
A puzzling yet reassuring combination of chicken bone, pork chop bone and a pool of vomit, all inches from each other on Grand Street, between Roebling and Havemeyer. Sidewalk bones always cheer me up.
Surf Bar * 139 N. 6th St., Brooklyn, NY