Ostia

I'm pleased to see the recent upswing of snacky Spanish options. While NYC hasn't fully accepted full on Spanish cuisine, avant-garde or traditional, we love small plates. And oddly, small plates often equals small space. You have to be in the right frame of mind to brave Tia Pol or Casa Mono. Less distinguished places like Tasca and Ostia, nearly across the street from each other, have the potential to lighten the load though I'm not sure they deliver much wow.
I guess I want tapas to be more exciting. I'd like to see Basque pintxos, crazy combinations (cod and chocolate sauce, anyone?) piled on bread or crammed into tiny glasses and secured with a toothpick. Bar counters with options on display and up for grabs. But America's tapas knowledge isn't vast, there's barely enough of a foundation to begin tweaking the familiar.
On an early weeknight, though an hour and a half past opening, Ostia was nearly empty. The feel stool occupiers looked like more of a happy hour crowd than diners. Of course, there are worse things than deeply discounted glasses of Tempranillo and freebie marinated artichokes. I don't mind being verbally offered a couple choices of red or white upon asking, but others might find it odd not to be given a wine list by default.
We were informed that the ham croquettes weren't ready yet, which bummed me out. A replacement suggestion, bacon-wrapped dates, were obviously tasty. I still wanted a croquette, though. The grilled sardines a la plancha were creative with oily, sweet and bitter flavors. I'm not sure what the charred black orbs were, they looked like olives but tasted more like dried cherries. We also tried a chorizo cooked in beer and salsa picante, though the tart tomato sauce slightly overwhelmed the sausage. All the greatest hits were on offer including serrano ham displayed whole-legged, hoof-on.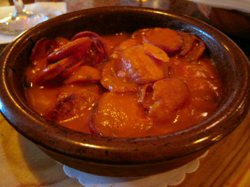 I wasn't about to order the meat as much as I love it because I didn't want to take any chances on being disappointed. There's a propensity in NYC to rough-up showcased, cured pig legs, resulting in short stubby hunks when they're supposed to be paper thin and lengthy. Hand crafted only makes an impression when it's done properly. I can't figure out if shopkeepers don't know better or if they enjoy manhandling the goods. Crudely sawing our Jamon Iberico with a 99-cent store pocket knife on our hotel bed was just as deft as anything I've witnessed around here. Maybe it's pride that keeps people from just using a mechanical slicer.
No matter, I'm still happy to have more Spanish newcomers to choose from. I'll just steer clear of the ham.
Ostia * 113 Seventh Ave. S., New York, NY