Tidbits: Bauhaus and Mayonnaise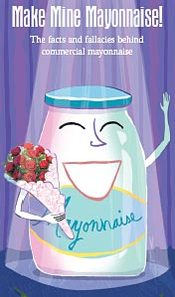 1. Bauhaus in Starbucks is wrong. I could deal the other morning when my favorite New Order song "Age of Consent" was playing (it already got tainted in the Marie Antoinette trailer, anyway) but "All We Ever Wanted Was Everything" is wrong anywhere, but particularly at 10am in the Financial District in a coffee chain.
In the mid-'90s I found a bunch of old dubbed from vinyl cassettes, including a few Bauhaus ones. I tried playing them while driving and it was intolerable, like really nuts and dramatic. In a way, Destroyer is a contemporary non-Goth version of this super theatrical style, and I can listen to it (maybe not driving, though).
2. Remind me to not go to Pret a Manger again. I've only gone twice in the past month but I keep forgetting that the not terribly filling sandwiches ring in at $7 on the dot with tax and are overly mayonnaisey (I'm not the first to note this overabundance). I end up hungry in a few hours, grossed out even after wiping excess mayo off with a napkin and annoyed that I've used way more than my allotted afternoon calories. Sad. I could deal with the heavy handed condiment application if the price was even a dollar cheaper because they do have interesting flavors. But after looking up the nutritional info on my cranberry, walnut, mesclun and brie version, I almost crapped myself. I might as well have eaten a Wendy's value menu cheeseburger and saved fat and money. Um, except I don't think they have Wendy's down here.