Bon Chon Chicken

1/2 Bon Chon is now Mad For Chicken. Doesn't quite have the same ring, does it? (5/15/09)
I have no idea how the Korean fried chicken craze of 2007 originated, but the New York Times article blew the genre wide open (I've really been liking some of the Times's recent articles, sometimes I'm just bored. Last Wednesday's suburban Latin supermarkets one was great. Huge, organized, well-stocked "ethnic" supermarkets are my raison d'etre and they're too few and far between in the city. The article even made a point about having wider aisles for larger families [in number, not weight, natch] which ain't happening here. Even the trying-to-be-mega Red Hook Fairway is cramped and illogical.)
Bon Chon is the type of place, along with Yakitori Totto, that I have every intention of visiting but never make it to because midtown is barely on my radar anymore and I need a catalyst. This time it was a friend's birthday dinner, the venue chosen at the suggestion of her sister who'd become enamored with the chicken while working nearby.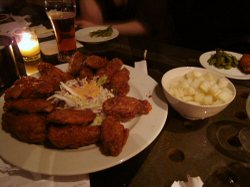 The peripherals don't necessarily enhance the dining experience. The décor is industrial, blood bath chic, kind of like a cleaner more stylish version of the room from Saw. Music ranged from late '80s Depeche Mode to a dance version of Dirty Dancing's "Time of My Life. "
And well, the food itself takes more than its sweet time making its way to the table constructed from wood, glass and rusty gears. Flagging down a server was also tough. But that didn't stop anyone from retrieving numerous pitchers of Killian Red (the only beer served in that rare less-than-urbane format) straight from the bar. The possible downside of that was that by the time the food started arriving, I was too tipsy to critically evaluate the poultry pieces.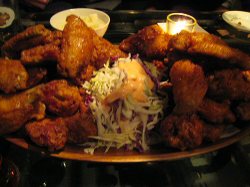 Clearly, the chicken is cooked to order. But 30+ minutes seems a bit excessive. When we asked about breasts and whole drumsticks, our waiter looked at us like we were crazy, declaring "too busy." That was fine. The extra skin to meat ratio on wings and drumettes is superior. The sensation is skin-centric with a papery crispness, more crackle than crunch. I enjoy thickly battered Southern-style fried chicken greatly, but this is a different beast.
Between a mix of hot wings and soy-garlic, the latter flavor was more popular. I'd agree by a margin, despite usually preferring spice over sweetness. The soy was just more welcoming where the hot required a pause between wings. I lost count, though I easily ate six. We ordered three $19.95 larges to split amongst seven eaters at our waiter's suggestion and that was right on. Only two stray pieces were left on the plate, and even they were eventually devoured.
Accompaniments include a small bowl of cubed, pickled daikon and a heap of shredded lettuce with a thousand island type dressing. Sushi rolls, ramen and something for $12.95 called iced peach are also on the menu. The lone vegetarian in our party had to make a meal of edamame and rosemary wedge fries. We were accidentally given an extra order of these potatoes, for no reason.
Bon Chon isn't cheap when you think about it, and definitely not fast food, but somehow that's all clouded once you ascend to the nearly hidden second floor. There's something about restaurants with no signs on the façade or ground level presence that change the rules. My sights have now been set on the Flushing location, Fort Lee's Boom Boom and Jackson Heights's Unidentified Flying Chicken.
Bon Chon Chicken * 314 Fifth Ave. second Fl., New York, NY