I Say Macaroon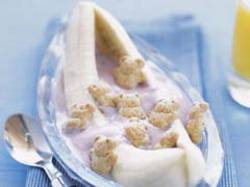 Maybe I'm just dumb (and kind of disinterested in Francophilia and Judaism) but I just now realized that macaroons and macarons two very different things and that the golden, haystacky blobs I'm familiar with are a Passover treat. I just thought they were plain ol' coconut cookies. Even Kraft knew, and they make freaking Teddy Graham banana splits.
In the past year or so I'd noticed food blog saturation with the French meringue cookies (the single item equivalent to Shake Shack and Ssam bar mania—two other icons I've avoided). There's an entire Flickr group devoted to them and in a super cursory search, I immediately turned up 1, 2, 3, 4 posts all by Asian females, which confuses me even further. But I never noticed until this week that the coconut-less circles are spelled macaron, no double O. How did these two cookies both become so closely named? I guess edibles like Spanish and Mexican tortillas are even more wildly disparate with the exact name, and the two don't give me problems.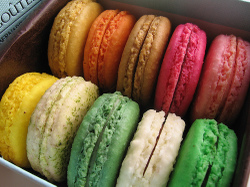 I'm fascinated by their unnatural colors (I'm sure I've mentioned how my mom used to food color mini A&W mugs of milk green so I would drink it) though I'm not understanding how all the rainbow brightness is reconciled with supposed Parisian élan. It seems rather gauche to me and I know from gauche. Regardless, Laudree looks like they know what they're doing.
The taste? I have no idea but now I'm hell bent on getting my mitts on an emerald green macaron. Where can I get these downtown or in Brooklyn? It's not likely I'll make it up to Bouchon Bakery or Fauchon anytime soon.
Macaron photo by gnuf