Eddie's Sweet Shop

After naively purchasing a silky teal-and-white Proenza Schouler for Target dress and thinking it would fit (I barely met the junior sizing restrictions when I was of appropriate age), it was already evening in Elmhurst. We'd already eaten a lunch that would suffice for dinner so we needed a non-edible distraction and decided on finding a movie. (In '94 a friend and I determined that a great punishment for a bet loser would be having to watch Nell on the big screen alone [out of curiosity, we ended up seeing it in the theater together and while non-good it didn't live up to our punishing preconceptions]. Norbit strikes me as the modern version of this torture. But who am I to haughtily judge the black man dressing as obese black woman genre? I am fascinated how a lady so large as Rasputia has no cellulite. The more I think about it, the more I need to see Norbit—maybe on Valentine's Day. I don't have any plans for Feb. 14 proper.)
Neither of us had seen The Departed (which was intentional in my case) and it was still lingering at the moderately artsy/cheap theater in Forest Hills. I couldn't picture where it was but as we started heading up Metropolitan Avenue I realized where we were and instantly remembered that Eddie's Sweet Shop is right across the street from the movies. And miraculously there was an open parking spot on the corner, putting us spitting distance from both establishments.
We had 45 minutes until the 8:15 pm show time and I figured anyone who would've wanted to see this movie had already seen it so no stress on snagging seats (I was wrong, the theater was quite full. We were also easily the two youngest viewers in the audience. And for the record, old people are just barely less vocal and distracting than the rowdy teens who dominate the Court Street multiplex near me). We totally had enough time to split a sundae.
Eddie's hadn't changed a bit since my first and most recent visit nearly six and a half years ago (reminders of the swift passing of time completely freak me out). It was still manned by wholesome looking teens, old-timey and trinket-filled. The number of soda fountains with counter stools and spindly curlicue chairs is rapidly dwindling. Modernly garish Coldstone Creamery has more appeal, I guess. They don't burst into song at Eddie's, though they do play an '80s radio station. I honestly don't know which is more wrong.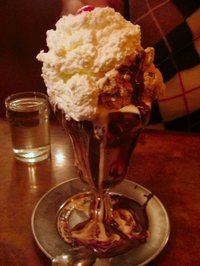 I find it hard to slow down and enjoy things properly so I struggled to savor my surroundings and scoops of ice cream. Surprisingly, it was James that said, "I don't think I'm appreciating this," which was an odd observation. I tried to concentrate and take in our shared creamy butter pecan, coffee chip and overflowing hot fudge before it melted. It's funny that my initial inclination was to order a butter pecan and butterscotch sundae  since apparently that's what I ordered on my last visit (see, this blog is good for something, after all). The perfect accompaniment was a short glass of water. I didn't even have to ask, the young waitress offered, "I like water with hot fudge." True, ice water and hot fudge is a great combo.
It's frightening to think that my next Eddie's visit could be in another six and a half years (I'll be freshly forty…jesus christ). Though since the next NYC Trader Joe's is bizarrely planned for a spot just a few blocks away, I'll likely be back before 2013. (2/10/07)
I live right off Metropolitan so I got excited when I read something about an old fashioned ice cream parlor on the same street. Of course, Metropolitan stretches to the furthest reaches of Brooklyn and Queens, but this place wasn't too far. I was out at this 24 Home Depot that I recently discovered and knew that Eddie's must be near by. I could feel it in the air. We followed Metropolitan till we got to one of those quiet, quaint neighborhoods where there are actually houses and you get the sense that a good number of the inhabitants don't make it into Manhattan on a regular basis (the same could be said of my neighborhood too).
What more could you ask for on an Indian summer Saturday at 6:00 than a sweet syrupy sundae? I wasn't disappointed. The place was built in 1913 and still has the soda fountain counter with the original wooden stools (people must've had smaller behinds 100 years ago) and an honest to goodness icebox. When the kid (yeah, I'm getting old calling teenagers kids, but I strongly doubt that any of the three whippersnappers working behind the counter had ever heard the term soda jerk, and therefore they are kids) got the real whipped cream out you could see the big block of ice inside keeping everything cool.
I ordered a sundae with butter pecan ice cream and butterscotch topping that was the richest, butteriest, most un-Smuckers like syrup I've ever tasted. And I swear the dollop of whipped cream was bigger than the sundae itself. Normally, I'm not fond of whipped cream, but maybe that's because I was raised on Cool Whip. James got an egg cream because he'd never had one (me neither) and got sick that night, but I blame that on the White Castle from earlier and the Pabst Blue Ribbon later.
Eddie's is definitely worth the trip (for me at least, since it's a hop, skip and a jump) and all the more so if you're into Beanie Babies or sailors carved from driftwood, because they've got knick knacks galore for sale in display cases. Where else can you satisfy your sweet tooth and pick up your kooky grandma a present all in one stop? (9/30/00)
Eddie'sSweet Shop * 105-29 Metropolitan Ave., ForestHills, New York