Itzocan Bistro

Occasionally, I wonder why I rarely go uptown, and after four subways and over an hour standing, I remembered why. Bone-chilling weather and the F, J, 4 and 6 trains do somehow bolster the appetite.
And you could do worse than Mexican ingredients, French technique and Bryan Adams's greatest hits (segueing into the best of Paula Abdul) serenading you while you eat. I started with a goat cheese flan with epazote and jalapeño. I had expected a more literal silky flan texture, but the queso de cabra disk was more crumbly like a cheesecake quiche hybrid. The crumbles were more suited to eating with toast and lettuce, anyway.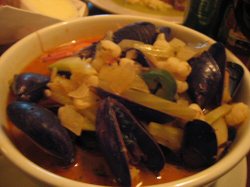 I really wanted the ancho crusted duck breast but I had convinced myself that seafood would be marginally healthier and suitable for the weather, so I chose the jalapeño and oregano dotted pozole with mussels, snapper and giant head on shrimp instead. It was certainly in a different class than a weekends-only, hominy-heavy soup you might find at a tacqueria.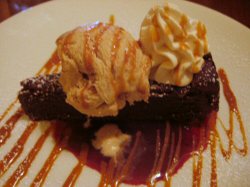 Lately I've been austerely attempting wine or dessert not and but Itzocan's sweets didn't sound run of the mill and I was happy to see that they hadn't gone molten on me. Thankfully, no soft-centered, Mexican chocolate, cinnamon spiced cakes were to be found. We did go the chocolate cake route, though, sampling a rich tequila flavored version with brown sugar ice cream. 
On the F ride back home I spied that recent Look Book guy with walrusy facial hair (I'm still not clear why he merited a meta second look elsewhere) doing a crossword from one of those paperback puzzle books. At least it wasn't Sudoku, I guess. I hovered near his prime seat because I'd pegged him for someone who'd get off at Delancey and I was right. It's one of the few skills I have, deducing who'll get off sooner on the subway and positioning myself accordingly. I just hope I didn't pick up any bedbugs.
Itzocan Bistro * 1575 Lexington Ave., New York, NY