Carnitas Uruapan & Birrieria Reyes de Ocotlán

1/2 There's a tendency to believe that shops focusing on one item must be masters. Like you don't want to buy banh mi where you get your pho, and the same goes for sushi and ramen. Of course there are tons of bad pizzerias, which kind of ruins this theory.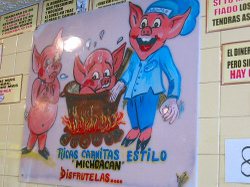 While on mini-vacation I did some single-minded sampling in Chicago's Pilsen neighborhood. Clueless whiners eat at Benny's Burritos and Señor Swanky's, then complain that there's no good Mexican food in NYC. That's completely untrue, but the good stuff congregates in pockets and our immigrants tend to come from only a few regions, Puebla in particular. Chicago seems to have a little of everything, geographically, and treats we definitely don't have. Since I only had two days in the city and my stomach is only so iron-clad, I decided to just try two dishes: Michoacán carnitas and Jalisco-style birria.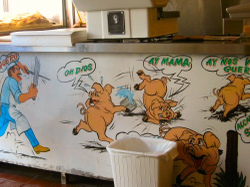 First we stopped at Carnitas Uruapan. It's on the same block as the 18th Street el stop and you can spy the red white and green storefront from the air. If you didn't know what carnitas were, you'd quickly get a rough idea based on the pig paraphernalia decorating the otherwise spartan room. It's hard not to chuckle at the horrors portrayed comically: pigs cooking each other in a caldron, an angry knife-wielding chef chasing talking piglets and a bas relief sculpture of pigs nuzzling each other…so sweet…never mind the ribbons of fried pork rinds encased in glass inches behind my head.
Year of the pig aside, pork is having its foodie heyday. Though anyone who's ever eaten Filipino lechon, Latin American chicharrones or Chinese pork belly or my favorite, Thai crispy pork with chiles and basil, is well acquainted with the crackly, fatty appeal.
There are variations, but essentially carnitas are chunks of pork that have been simmered in fat until meltingly tender, then crisped up through roasting. They're a typical taco filling but I'd never been to an establishment wholly devoted to the fruits of this oily labor. At Uruapan you can get them in tacos or buy them by the pound. We split a pound of mixed bits. They ask if you only want meat. Not exclusively wanting meat means you also get skin, snouts, ears and heaven's knows what else. Whole hog, for sure. 
I seriously could've eaten the whole plateful myself but then I would've been useless for our second stop. Whole pickled jalapeños, red salsa and tortillas are the only accompaniments. We could've stood for a little chopped white onion and cilantro, though our self-made rollups didn't suffer without. Our plate of meat easily yielded ten tacos. I hate mints and love caramel so the after-meal cajeta lollipop made me like Carnitas Uruapan even more.
It was only half a mile in a straight line to get to Birrieria Reyes de Ocotlán but we almost froze to death on the icy journey–remind me not to complain about brutal NYC weather. I would've been more excited about the prospect of warming goaty consommé strewn with meat, scattered onion and cilantro and a squeeze of lime if I hadn't just loaded up on the other white meat. I ordered a small bowl to share with James but he hardly touched it because we only had one spoon and he was preoccupied with his BlackBerry (I couldn't really complain because he was subsidizing most of this 48-hour excursion and hadn't taken time off work. I guess his office assumed he was working from home).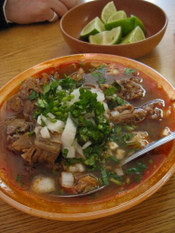 I've only eaten goat a couple times in my life but that's more of a scarcity than a scared issue. I'm not sure why Americans are so grossed out by goat meat, we don't even really eat lamb—it's too gamey, I suppose. But purportedly, it's low fat (on a recent F-Word, Janet Street Porter showed up with goat at a Weight Watchers meeting to convince British dieters of its charms) so I told myself that I was balancing out the badness of the previous pork fest.
Orange-brothed birria is soothing and fortifying. There's nothing offensive about the flavor, which is slightly sweet and not really lamb-y in the least. I'd love a bowl for breakfast and that would most definitely bug out coworkers (this Times piece about eating at your desk irritated the hell out of me, and this quote in particular "'When I'm interviewing someone and I see their bones protruding, I know it's a good hire,' he said. 'They're extremely disciplined.'" Er, or have emotional problems.  Eating habits aren't anyone else's business in the workplace, though I will admit to being dismayed at my current soon-to-end job where no ones takes lunches at all. Seriously, no one eats or takes breaks. I bring yogurt, granola bars and apples from home to eat at my desk because they're inoffensive and inexpensive. I'm going to get smelly, greasy Cuban food tomorrow–see ya, suckers).
I'd like to figure out tortilla eating etiquette. I was trying to watch how two women seated across the room were consuming their flattened corn disks. With a soupy dish it seems like you might dip pieces in the broth or maybe tuck some shreds of meat into a substantial torn off wedge. Even so, I might use three tortillas total. Four if I was making an effort. But you're brought a stack of eight or so and halfway through your meal you're asked if you want more. No más, gracias, I'm going to explode. Is one person really supposed to consume eight-plus tortillas? I love my starch, but that seems excessive.
Both Carnitas Uruapan and Birrieria Reyes de Ocotlán tickled me with devotion to few items done well and their sense of humor about the animals being served as food. A taxidermied goat head with a toothpick in its mouth and pigs stewing each other are the best anthropomorphic antics I've seen beyond southern barbecue signage.
Carnitas Uruapan * 1725 W. 18th St., Chicago, IL
Birrieria Reyes de Ocotlán * 1322 W. 18th St., Chicago, IL