Tacos Matamoros

1/2 I can only say so much about tacos (which isn't to say that others have no problem filling this niche. I envy single-minded bloggers—I'm way too scattered for such focus and devotion. I fear it's a case of jack-of-a-few-trades, master of none). This is just an addendum to an older entry before I started taking photos like some foodie freak.
I'm always torn over whether or not to bother with updates, but like Mr. Miles told me in eighth grade social studies, "you have diarrhea of the mouth." (That seriously pissed me off at the time—I was not a fan of Mr. Miles. He once kicked me out of class until I'd apologize for something he misheard me saying. This went on for days until I was forced by my guidance counselor to say sorry. He even called my house at night during Cheers and told my mom "I was the rudest student he'd ever encountered." After that, she wasn't a fan of Mr. Miles either.)
I do miss living close to good tacos. I wasn't crazy about Red Hook's El Huipil on my one visit, but it's the only real Mexican place currently within semi-reasonable walking distance. But apparently, they've closed shop. Back to Sunset Park.
I didn't intend to order a torta and taco, both pastor. I was thinking carnitas for the sandwich but they were out. Oh well, pork is pork. I had forgotten that Matamoros makes munchkin sized tacos but they're only $1 each. I would've just ordered a variety and left it at that but I'm a sucker for tortas. I frequently feel guilty eating too much food, but the two average-sized young women sitting across from me had cemitas (a big brother to the torta) and healthy-sized bowls of sopas. What a great idea—I'd never even considered a Mexican soup and sandwich combo.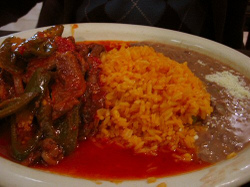 They don't have specials like many other restaurants in the area but the listed plates are popular. James ordered bistec a la Mexicana, which comes in a thin tomato-y sauce dotted with halved jalapeños that looked like bell pepper wedges at first glance. We thought this was the meaty thing that tons of other diners were eating but we were wrong. I'm not sure what the popular dish was, maybe carne asada? I didn't ask. Just asking for a receipt caused enough trauma—I didn't want to push my luck with the tough questions. (1/21/07)
Getting people to come to my neighborhood is like pulling teeth. It's a story older than the hills. And when I can coax a visitor, more often than not, we head north to Park Slope for food. But on this rare Friday night, tacos were in order and Sunset Park beckoned.
Practically every block has a taco stand, but Tacos Matamoros seemed right. It was busy, bright and blaring that style of Mexican music that sounds like polka. Festive might be the word I'm looking for. I was especially intrigued by the lone young gentleman who kept putting on ballad after ballad (playing what sounded like a Hispanic Righteous Brothers song twice) on the jukebox. I never knew macho guys could be such saps. Thank goodness the place doesn't serve cervezas or else there might've been some tears.
Tacos are reasonable at a dollar a pop. A style starting with the letter S, that eludes me right now, was baffling. I know tongue, head and tripe, but this one threw me for a loop. No matter, I always end up ordering a torta al pastor anyway. (4/19/02)
Tacos Matamoros * 4503 Fifth Ave., Brooklyn, NY