La Vuelta

I'll admit to Long Island City dining ignorance. I don't feel too bad because there's not a whole lot of it to be informed about. I suspect that will change as condos continue popping up in the area and new residents bring higher standards.
But I recently started reviewing restaurants for Latina.com. (Hey, why not? I just hope it's not a conflict to post my own takes here. I mean, these aren't terribly useful and tend to be more about me than anything. What I'm paid to do is short, sweet and service oriented. Totally different beasts.) I need to represent diversity in neighborhood, culinary style and price range. It's going to be tricky covering ten a month (that's a lot of rice and beans, papi) because I'm accustomed to eating Asian (I know, that's about as broad as Latin American) whenever possible and I started watching my damn points last week (yes, Weight Watchers. It's laughable, I realize. But heck, if I even managed to shed a measly half-pound a week, that'll be 26 gone by Christmas. I'm a turtle not a hare.) and lord knows I can't turn down free food.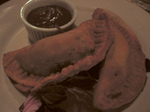 I get the sense that La Vuelta does a brisk lunch and happy hour business and is trying to expand their reach. They recently started opening on Saturdays and will add Sundays next month. When we arrived around 8:30pm on a Saturday there were only two other tables occupied. It's not surprising since the block is less than bustling.
The food is all over the place (geographically, not haphazardly) with Argentinean skirt steak, cubanos, empanadas, nachos, and the like. We tried empanaditas, four tiny cheese filled pastries with salsa and two larger pork style crescents with bbq sauce. Not bad. James had said skirt steak, which came with mashed potatoes and chimmichurri. I went for grilled shrimp with coconut rice and a jalapeno-pineapple mojo (don't tell anyone, but I'm not crazy about a lot of Western rice dishes. Biryani and nasi lemak: uh-huh. Paella and risotto: eh). They weren't able to make the advertised pisco sours (no pisco) but caipirinhas and rioja sufficed.
Everything was well seasoned and the service nice as can be, but it's definitely a neighborhood restaurant. And L.I.C. could surely use a few more.
La Vuelta *10-43 44th Dr., Long Island City, NY