Rainy Days and Sundays
I'm not watching Iron Chef America (I rarely watch it anyway) because I unwisely agreed to do a twelve-hour Sunday shift. Nuts. Do you ever get that feeling of overwhelming dread on Sunday nights? (I assumed this was a common malady but I think it only applies to people who must do scheduled work for a living, and more and more I'm realizing that a good number of New Yorkers don't fall under that category.) I had a bad case of Sunday evening sickness last night.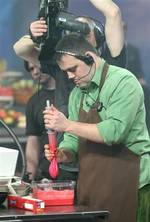 Sometimes it helps to just mindlessly watch TV until you can't keep your eyes open. I watched some house flipping shows, that Alton Brown episode of his non Good Eats show where he falls off a motorcycle and breaks his arm, The Hills Have Eyes II (not to be confused with this year's sure to suck remake) and The Three Burials of Melquiades Estrada. Somewhere in there was a commercial for a Morimoto-Cantu battle (I'm a total word mangler, but in conjunction with style—isn't the correct term flair, not flare?). James was like, "who the heck is Cantu?" (without saying heck, that's more what I would say). The ad was attention grabbing because it showed the chef wearing a head set and all sorts of devices and lasers were being employed.
I forget that people have lives that don't involve fairly useless restaurant happenings. I just thought that everyone knew about the inkjet sushi in the way that the $59 DB burger was mainstream knowledge from all the press coverage. I also filled him in on the (unresolved to me) Mariani scandal. I also mentioned that I would love to try Moto, even if it's a lot of gimmick.
I like it when I'm unintentionally convincing. A few minutes later it was decided that we'd go to Moto on Feb. 15 for a day-late Valentine's dinner (it's not like I'm so highbrow as to declare the 14th an off limits amateur night—the date was simply blocked out on Open Table). All right, Chicago. I'm not crazy about hotdogs or deep-dish pizza but they should also be added to the list. I am crazy about crab rangoon, so I practically started bawling when I discovered that Trader Vic's had been kicked out of its Windy City location about a year ago. Perhaps food crafted from lasers AND bongo-bongo soup would've been too much goodness in a short time frame.
So, I'm not thrilled about this noon-midnight work predicament I'm presently in but I'm less glum than I was thinking about it last night. If I didn't have periodic pick me ups (like Vegas in December) I'd seriously lose my mind. I'm lucky that I have something to look forward to every now and then, even if it means losing two day's wages (freelancing can be cruel when your hourly rate isn't up to snuff) to go on my midwestern culinary excursion. I'm trying to figure out how I never took a vacation in my twenties and slept on the floor and had even less money (though also less debt) than I do now and didn't mind. Is that a Portland-NYC thing or a rising expectations with age thing? In my forties I'll probably look back in horror at my current cell phone-less self.